Morocco: to Fez & Middle Atlas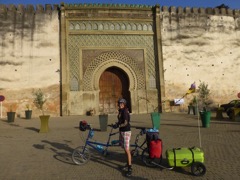 week five as we head to Fez
HERE ARE THE PHOTOSTuesday
(day 29: 14th May 2013) we headed off north from Rabat to Kenitra and then after getting lost and riding an extra 5 or more kilometres we finally found the road east, inland. We decided to eat dinner at a small town (Sidi Yahya du Rharb)15 km from Kenitra but with getting lost it was nearly 8pm.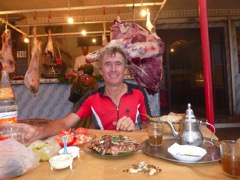 Our plan was to eat dinner and then just on dusk head out of town to find a spot to wild camp. This looked a perfect plan as there were eucalyptus forests either side of the road coming in to town. As we left a policeman stopped us and in sign language asksd us where we were going and where we were sleeping. He seemed very concerned and mentioned criminals. After about 10 minutes and a few phone calls to his chief he let us proceed. It was now pretty dark and we had a flashing rear light and very bright reflective tape on our case. A car slowed behind us and another car, also going very slow, pulled out to overtake. Next we heard a car with brakes fully locked up skidding towards us as he realised these two slow vehicles blocked the whole road. It was a very scary moment. Then a bit further on with gum tree forests on both sides of the road we went to pull off only to spot people walking across the road in the dark. Finally we chose a lovely secluded spot in the gum tree forest and about 9:30 pitched our tent and settled in after over 90km riding.
Wednesday
the day started with a shower of rain and it was a cool 16° C when we got up just before 8am. We made great time along a flat road with a pleasant tail wind and ate lunch about 1pm at Sidi Kacem. Then things got worse as we had to climb about 400m and the rear hub gears were making a terrible squeaking noise and dragging quite a bit. Finally about 7pm after 87km we could see Volubilis (the remains of the Roman city) we had travelled this way to see. A man beside the road gestured for us to come in to camp and we didn't need much persuasion. Camping was amongst some fruit trees next to a natural spring and he offered to cook a tagine for dinner which he said would be ready at 8:30. We went looking at 9pm and eventually he turned up about 9:30pm from Moulay Idriss 3km away with a bought tagine consisting of a whole chicken, potatoes and beans.
Thursday
I spent the morning working on the bike.
More details here.
Things do not look good as the rear rim has worn through.
see here
Also the hub gears are no longer working and have a broken pawl and are making a terrible noise. After getting thing sorted as best possible we checked out the well preserved remains of the ancient Roman city of Volubilis used by Romans from 40AD to 280AD. The mosaics were amazing. We than rode to Meknes and intended to camp at the campground mentioned in the Lonely Planet only to find it closed some years ago. We ended up in a lovely Riad in the centre of the city.
Friday
was spent dealing with the bike and another Saga described in detail
here
Saturday checked out the museum in an old Riad off the Meknes main square then we rode the 60 km to Fez which ended up being a very pleasant almost flat ride with only the incessant squeak in the hub to take away from the experience. It was about 6 when we arrived at the campground well away from any shops about 10km from the city centre. Before we could even finish pitching our tent a generous Swiss couple ( Stina and Artur) had invited us to eat their left over risotto which came with beer and salad and pleasant company, all together an enjoyable evening.
Sunday
we spent lost in the Medina in central Fez. Contrary to the advice from the campground (who recommended catching a taxi that happened to be waiting for just Dh200 ($22)) we rode in and had no problem locking our bike tat the Medina gate. Despite having little idea of where we were going we managed to stumble upon the main sights we wanted to see. Like all of Morocco it is full of contrasts with woodworkers and blacksmiths using centuries old techniques next to watch and mobile phone sellers. We waited till 5:50 to visit the exterior of a m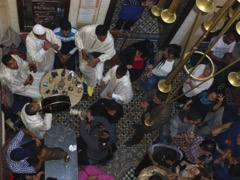 osque as mosques are generally off limits to non-muslims in Morocco. As we left we were asked to come into a cafe which turned out to be the Clock Cafe where every Sunday night between 6 & 8pm there is a percussion band playing. We stayed for dinner (I had camel burger) and enjoyed a rollicking atmosphere as the traditional band had the patrons dancing and clapping.