Morocco: Agadir to Anti-Atlas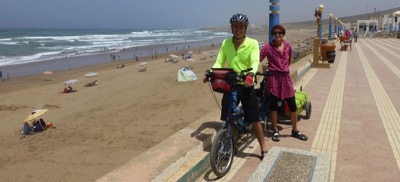 Morocco here we come!!!
HERE ARE MORE PHOTOS
Here is our planned route
We left Daniel's house in Gottingen at 7am and made good time to the airport some 330km away in Berlin. No problems checking in as we had booked an extra bag of sporting goods for 35 Euro which gave us 13 kg extra and our checked bags were 31kg (bike) and 20kg (duffel bag) for a total of 51kg. Also Easyjet had only a size limit on carry on but our panniers were well under that size and only about 8kg each.
As we crossed the
Straits of Gibraltar
it was hazy but we got a good view of both Gibraltar and Morocco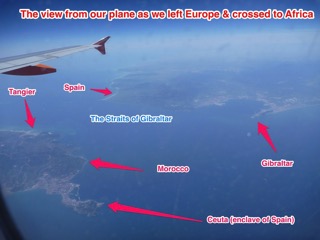 (click on any image to enlarge it)
The first job when we arrived in Agadir was to assemble the bike. This took 2 hours plus a little time to organise our gear and eat some before heading into town some 30 km away. The signage was poor and eventually we ended up at the port where at 8pm we decided to eat a fresh fish dinner before finding the middle of town and a hotel. It was well after 9pm by the time we found a place right in the centre.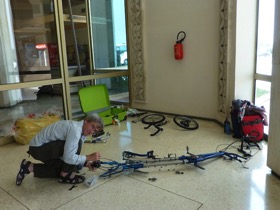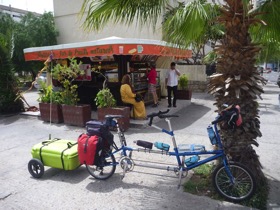 Wednesday morning we ate breakfast across the street where we had good WIFI and spoke to Kate on Skype before having a juice and then commencing our search for a small disposable gas cylinder. This took about 15 km of riding and we ended up buying a new cooker to suit the available cylinders. We rode south and it was already quite late so we headed out to the National Park thinking it may offer camping. Amazingly in what seemed the middle of no where just as it was getting dark, there was a sign "CAMPING". Sure enough it was a camping area a french couple had been working on for a few years and was due to open in 6 months or so when the toilets were finished, but they would let us stay. (
Camping Takat
)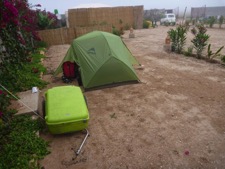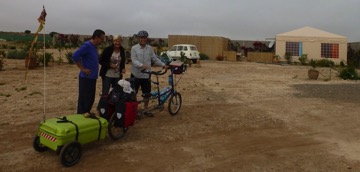 Thursday
18th: We continued towards the coast and within a km of leaving the camp was the national park and a sign saying a whole list of prohibitions including camping, paragliding etc etc.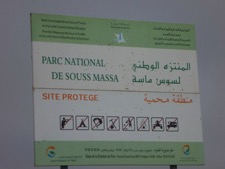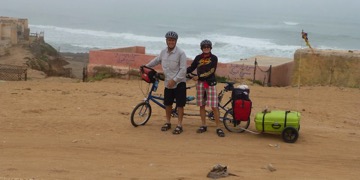 From the coast, which was a pretty unimpressive beach with a few houses called Sidi Tiole we turned back to the main road and continued to the small town of Sidi Bibi where we sat at a cafe with WIFI and again spoke to Kate and Emma and as we sat so long we ordered a tanginess for lunch.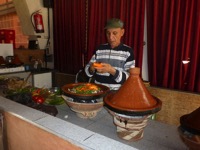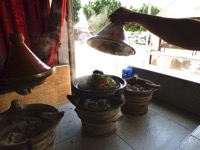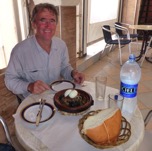 We then had a long 64+ km ride along a busy main road that was fairly flat and uninteresting desert landscape to the large town of Tiznit.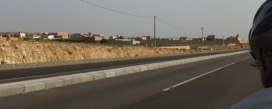 Friday
we headed directly to the coast and Aglou Plage, a small beach town. From there we continued south along the coast which was undulating through dry creek beds. The landscape was rocky, dry and for the most part barren and a misty haze hung over the ocean.
We intended to ride about 50km to a small town of Mirleft where we thought there was a camp-ground.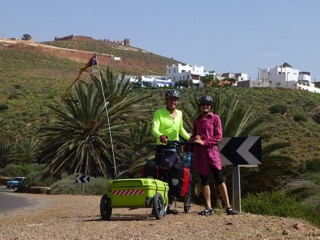 Here we are happy that we have reached Mirleft which you see behind.
We arrived tired and hungry about 3pm so ate a huge fish tangine before heading to the camp-ground. Alas there was no camping area to be found and so we ended up continuing on a further 30 km, up and down to Sidi Ifni. This is an old Spanish enclave and was only returned to Moroccan control in 1969. It is a a popular surf resort. We arrived about 7pm and camped next to the beach.

Saturday
we relaxed in Sidi Infi, walked along the beach, had a swim in the Atlantic ate a splendid Paella. It was very hot, about 33
°
C so we waited until 5pm before riding the 30km back to Mirleft to break out journey to Tiznit. We stayed in a small hotel and were up late watching a Berber concert which happened to be on at night.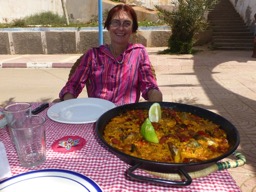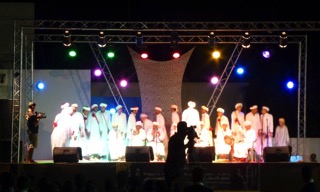 Sunday
we headed off from Mirleft over a small range of hills to Tiznit some 45km away. It was very hot…about 45
°
C on the sun, where we were. By the time we arrived in Tiznit all we wanted to do was rest and finally we bought a salad and sat for a few yours hoping it would cool down. As it was over 100km to Tafraoute, where we were heading and there were the Ante-Atlas mountains to climb we wanted to get a start so at 4pm we headed off despite it being still around 40
°
. We rode about 35km until 7pm when we camped in the wild and after a quick couscous and tuna dinner we were in bed around 8pm despite it still being in the high 30s.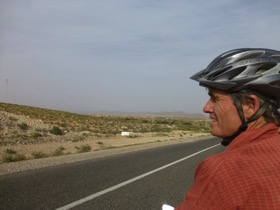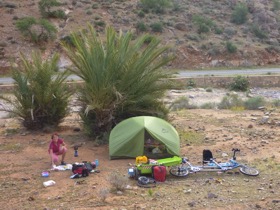 Monday
(day 7 in Morocco: 22nd April, 2013) we were away about 9am and it was steady climbing. I was not feeling very energetic even after 11hours sleep so the going was slow. We stopped in the first village (Tighme) about 6km (see butcher's shop photo below) and then it got a little more consistently up and at about 10km we puled over to take a photo (any excuse for a rest) and a ute (pick-up) pulled over and offered a lift and before you know it we were being wisked up the ever steeper Anti-Atlas mountains and over the worst 20km of climbing. (at Tizoughrane)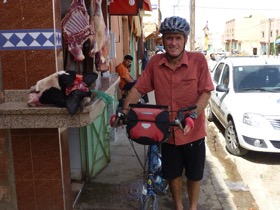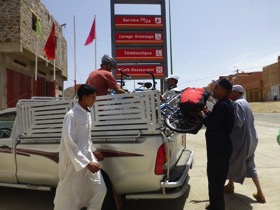 From here considering how lethargic I was feeling on it was hard enough with another 500m of climbing over the next 40km but some fabulous scenery and a few rest stops and we were in Tafraoute. We met up with Klaus and Ruth, a german coupe we had met earlier on and camped next to them in their 4WD Mercedes van (
my dream vehicle
).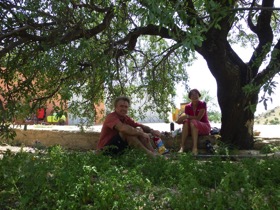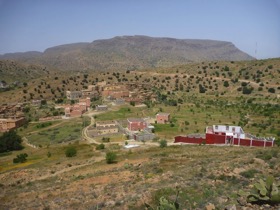 The panorama at Tafraoute with the town in the centre and our camp site on the right plus granite boulders galore.