Paragliding in Piedrahita, Spain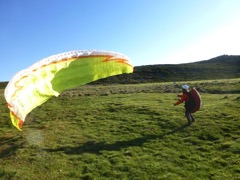 A week of flying in Spain
HERE ARE THE PARAGLIDING PHOTOS
HERE ARE THE NON-PARAGLIDING PHOTOS
HERE IS THE DETAILED LOG AND MAPS
Unfortunately the weather deteriorated as the week went on so after a flight on Sunday evening and then 3 flights Monday we only got 2 flights Tuesday an were lucky to get one flight Wednesday.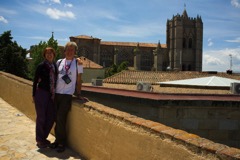 Thursday we went to Avila
Friday
we visited Salamanca
Saturday
we went to Guijuelo, a town famous for its cured ham production. We visited the ham making museum and then sampled some of the ham and wine for lunch.
Due to the disappointing flying weather we stayed on for what looked like promising weather on Monday.
Sunday
it was still overcast and we moved up to the town hostel and took a walk around town. It cleared about 5pm but was clouding over again when we went up for an evening flight about 7pm.
Monday
it was still quite cloudy and the rain had made the ground damp so conditions were certainly not ideal with a low cloud base and at best weak thermals. Nevertheless I got a reasonable cross country flight of 25 km getting over the pass on the way towards Avila.