Mt Buller Mountain Biking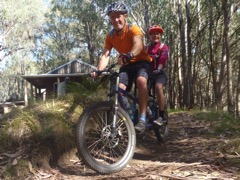 4 days at Mt Buller on some great trails!!!
Sunday we caught the 9am shuttle from Mirimbah to Mt Buller and headed off from the top about 10 o'clock to do the Australian Alpine Epic Track.
It was supposed to be 42 km. It took us until 4:45 to finish so it was an Epic. Our GPS said 44.5km and 1320m of ascending.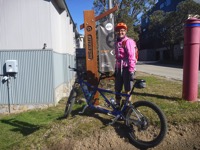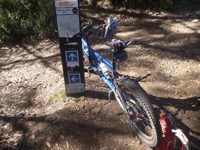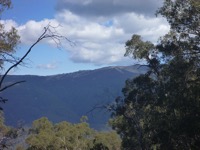 Start of Track at 10:10am; Delatite River Trail Jnct 10:40am; Howqua Gap 11am (cover photo); View back to Mt Buller 1:50pm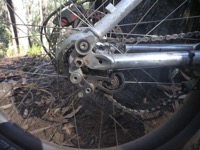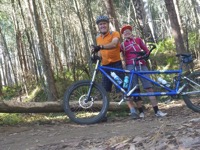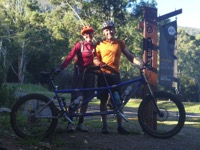 break down 2:20pm and left about 3pm more details
here
; start of the big 9km descent at 3:40; finished at Mirimbah 4:40pm
Monday we spent the morning getting our bike repaired and didn't start riding until about 4pm
We rode….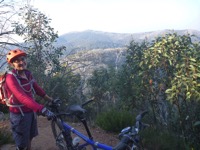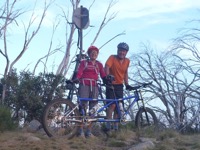 great views; At the Corn Hill summit at 5:35pm
We drove to Howqua Gap (about 8km from Mt Buller on a dirt road) and camped there.
Tuesday morning it was cold and drizzling so we sat in the car and read until after lunch then we rode the Stonefly Loop which took nearly 2 hours and we finished the day with Trigger Happy and Woolly Butt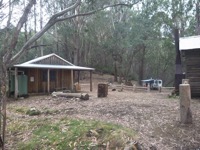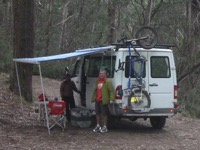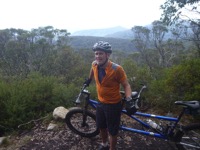 Our camp next to Howqua Gap Hut; A cold wet Tuesday morning; Exhausted after the 7km Stonefly Climb.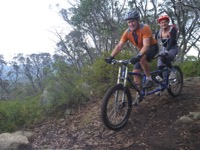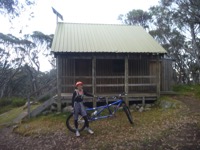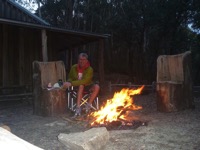 Riding on Stonefly Loop; At Bluff Spur Hut, just below Mt Stirling; Our campfire at Howqua Gap Tuesday night.
Wednesday morning we woke to pouring rain. Finally about noon I left Annette at Mt Buller with the bike and drove the 15km down to Mirimbah and then hitched back up the mountain. It was 1pm when we left and it had only just stopped raining.
We rode Family, Gang Gangs, Picnic and then turned on to the River Trail. It is mostly an old logging Road with log bridges across where the road once forded the river. It started off quite steep, so much so that our rear brakes faded to nothing after about 2 km.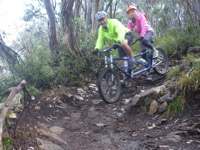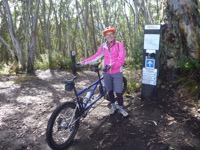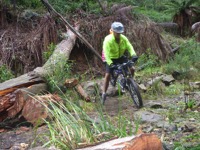 On Gang Gangs; At the turn on to River Trail; A sharp turn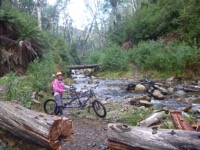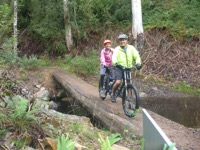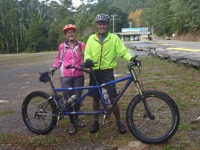 There were multiple Delatite River Crossing on Log bridges; Finally very dirty we finished at Mirimbah.