Chain Tensioning Spring Breaks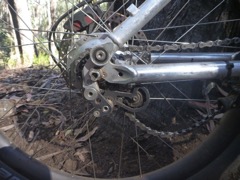 26 km into the Australian Alpine Epic our bike breaks!
The Australian Alpine Epic is a 44km ride from Mt Buller to Mirimbah which involves over 1300m of climbing. We were at the 26 km mark when the spring holding the tension on the chain broke. We removed a few links but the chain was very loose and I didn't think I could remove another.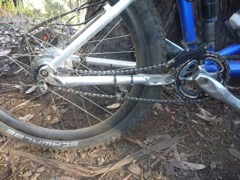 Fortunately it was only a few kilometres to the start of the last 9km of fantastic downhill and the bike would ride along okay provided too much pressure wasn't placed on the pedals (which would cause the chain to jump on the rear sprocket.)
Next morning we drove to Mansfield to ATR bike shop and after waiting a few hours while they fixed another bike Dave did an amazing job installing an old Suntour derailleur to act as a chain tensioner… and it worked a treat… we were back at Mt Buller riding Monday afternoon.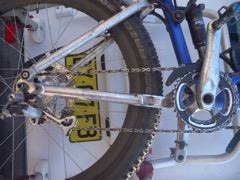 Note picture taken on back of car and rotated to make more sense.