Morocco: up the coast then Marrakesh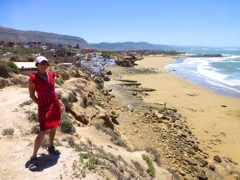 Along the coast to Essaouira and then to Marrakesh
HERE ARE THE PHOTOS
We spent a relaxing day
Tuesday
(30th April) trying to keep out of the strong northerly wind.
Wednesday
the wind was lighter so we headed off the 100km up the coast to Essaouira. From the coastal village of Inssouane we initially had to climb back onto the plateau before the going got a bit easier.
Thursday
we chatted to out camp neighbours for a few hours in the morning. They were Nigel and Alex, an english couple who had sold their house and quit their jobs and were now living cheap camped in Morocco without car or much else.
Friday
we lazed around on the grass under the olive trees in what was the nicest camping area we had been in. When we headed off we had only gone 10km when we stopped at service station for a rest and a Dh20 Magnum ice-cream and Annette noticed our flag was missing. We left our case/trailer at the service station and rode back to Ounagh which added an extra 21km and 1 1/4 hours to our trip. A flat tyre at lunch and the gears still playing up plus mostly headwind meant we were fairly tired when we arrived at Chichaoua after now 100km. We were advised camping was 3 km out on the Agadir road but in fact it was a service station with the only motel in town. for Dh200 we took a double room and enjoyed a hot shower and large fluffy towel.
Saturday
we had a pretty easy day as the wind was kind and the terrain was pretty flat. This was fortunate as Annette was not feeling 100% and the rear bike hub was giving intermittent but very frustrating problems (pawls not engaging and therefore suddenly the pedals would do an extra few revolutions without resistance)
Sunday
we lazed around the pool and did pretty much nothing at the fabulous
Ourika-camp camping area.
We rode down the 1 1/2 km to the local village and that was about it. In the evening I pulled apart the rear hub as it was still playing up a lot. It was getting dark so I left it to the next morning to reassemble.
details here
Monday
(6th May) after putting the rear hub back together we finally set off to check out the centre of Marrakesh. We rode into the central walled part of the city and around the lanes and alleys until we finally arrived at the main square. We locked our bike and wandered through the covered shopping alleys and eventually back to the main square which was coming to life with the evening (tourist) activity and stalls. Just as The Lonely Planet had described there were snake charmer and buskers, orange juice venders and monkey trainers. It was a busy eclectic mix of activities. We wandered around looking though to photograph any of the entertainers you were expected to pay so we steered clear of that. Finally after a few 4 dirham orange juices we were convinced by a zealous sprucker to sit down and eat and one of the many almost identical food stalls. After a long meal we rode the 10 km back to camp about 10pm.
This Saturdays ride:
Wednesday's ride is below