Weekend in the Black Forest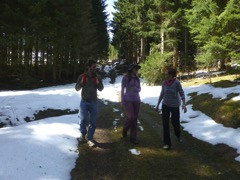 A Weekend in the Black Forest
HERE ARE SOME PHOTOS
A description is to come but the photos explain most.
We had a really good weekend together. The weather was sunny and warm
about 20 . Absolutely perfect spring weather, it was the best Sara and
Daniel and seen for months.

Sara was feeling only just okay SAturday, so we drove down to where we
were staying and looked around at how to find the hiking trail and the
beautiful scenery. We then drove on to Lake Constance and walked along
the fore shores and had ice cream in the centre of the city. There was
hundreds of people along the lake enjoying the good weather. The ice
cream was delicious, I had lavender in a gluten free cone MMmmmmm.

We had booked into dinner at our guest house so arrived and at a
sumptuous meal and went to bad. We all slept very well, so breakfast
was not till 8.30 am. That was a feast fit for a king so after eating
for over an hour we headed off. Luckily, Sara was much better and we
enjoyed a 10km around walk mainly along a Forrest road, there was
still snow on the road at the top of the hill, but the Forrest and
country scenery was peaceful and very energizing, we stopped for a
snack in a geoecology park. After returning to the car we went to a
mill stream for very late lunch and did another 4 km walk along the
same connecting150km track by the river. It was more a walking path
and parts of it was an old road built in 1430. Dad and Daniel loved
exploring that.

Finally we returned home tired but very happy. Sara has just left for
uni, we are meeting her for an ice cream and walk at 10 .30 am. We
will leave to drive to Daniels about 4 pm today, before heading to
Berlin early tomorrow morning to fly to Morocco.