SIV course at Lake Liddell plus XC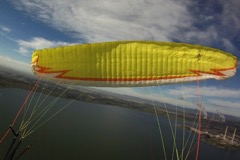 Some great flying while helping Greg with Paragliding courses:
Although it was mostly helping with running the courses I did get to fly during the XC (cross country) section of the course.
Here are my Paragliding Log Book Entries starting with the most exciting day when we did some towing on the lake and Jocky was on hand to give advice from the ground (or boat in this case).
CREW DAY
with 4 GREAT flights and although I didn't SAT on the first flight I did manage one on each of the other flights as well as a few spins and stalls.
I was there for course 2 and 3 and between the two was the crew day.
Course 2 was also a XC camp and as the wether was bad at Lake Liddell we headed up to Manilla for 2 days.
The first days flight is
here
.
The second day at Manilla is
here
We then went towing out of Quirindi on the Breeza Plains.
First day I flew 40 km so
here
is the entry