Kate gets a new car
31/01/13 02:36 Filed in:
Family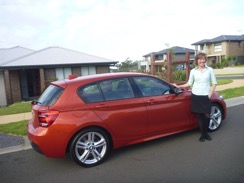 Kate and Andrew get a new car
HERE ARE MORE PHOTOS
It is a very sporty new
BMW 125
. It has lots of cool features but thing that made Kate decide on this noe was the "Safety capsule". When your driving over 120km everyday you need a safe car!