NZ week 5 Routeburn Track & MTBing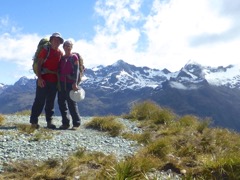 4 days hiking the Caples - Routeburn Tracks then more MTBing
Saturday night we stayed in Glenorchy about 60 km from Queenstown along Lake Wakatipu.
Sunday 6th December we dove to the start of our hike at Greenstone and left our packs there. We then drove the 29km back past Kinlock to the start or in our case finish of the Routeburn Track, parked the car and rode back the 29km to our start on the Caples Track. We finally left the bike at about 5pm and walked the 2hr 40 min up to Mid Caples Hut where we had open ($15/person) tickets to stay. There were 6 others at the 24 bed hut.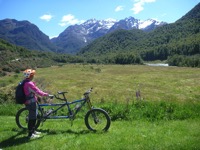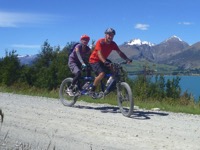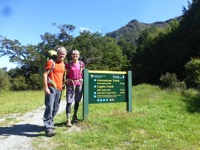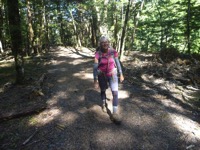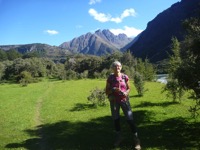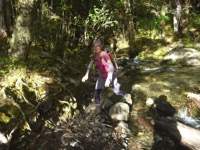 Monday we hiked about 21km to Howden Hut.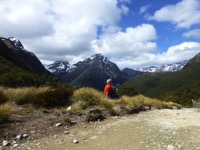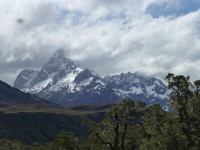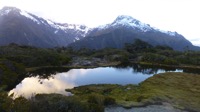 Tuesday we hiked past Mackenzie Hut and Lake, over Harris Saddle and past Routeburn Falls Hut to Routeburn Flats Hut about 22km.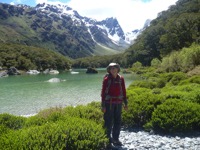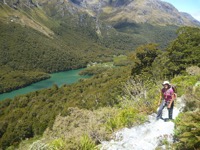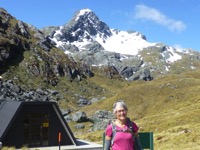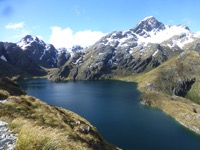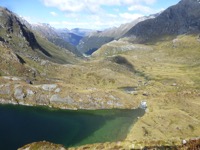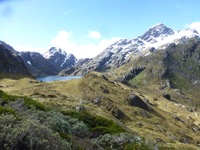 Wednesday we hiked back to our car and then drove down and picked up our bike before driving back through Queenstown and heading to Alexandra for the night.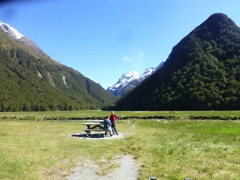 Morning at Routeburn Flats looking up North Routeburn.
Thursday we rode at Flat Rock and then out around the Airport before diving on to Saint Bathans to camp the night.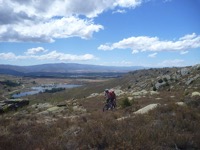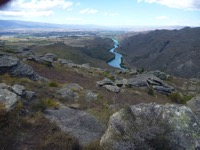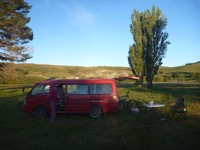 Flat Rock with Butchers Dam behind. View from Flat Rock, Clutha River & Alexandra. Our Camp at Saint Bathans.
Friday saw us drive to Nasby only to find the Forest was closed due to extreme fire danger. Disappointed we drove on to Dunedin and camped at the Leith Valley Camp and rode the Nicols Creek Switchback Track… which was Great!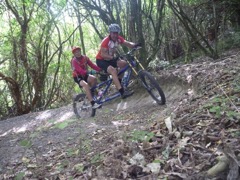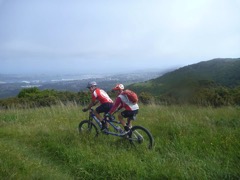 One of the many Switchbacks on Nicols Creek. The view from the top with Dunedin in the background.
Saturday was miserably cold and windy so we lacked motivation to go riding. We went down town to the Dunedin City Centre and took a walk around and finally worked up the courage to get dressed to go riding at Signal Hill just out of Dunedin. We were advised that the Big Easy would be good for us as it was a 2 way track we could ride up and back the same way. When we got to the top we saw a much more promising "downhill" route which proved to be great fun. about a 1/4 of the ay down we looped back to the top for a second go and then continued to the bottom. Unfortunately we got a split side wall but were able to nurse it back to the car where we tried to get the sealant to hold but as we set off for another loop it leaked again so we had to put in a tube before heading off for a late second full loop, and this time the whole of the "downhill" track. (note it was not The Downhill Track, just a downhill track.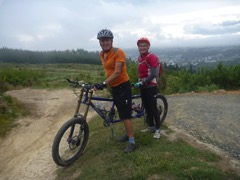 Getting near the top of Signal Hill with Dunedin below.