A Big Day at Stanwell: Paragliding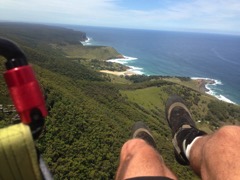 A huge day with 20 flights! and over 5 hours in the air!
Paragliding Log book entry
here
This was my biggest day ever with 20 flights, one over an hour and another just under plus lots of top landing and I finished the day by flying to Buring Palms and then landing at Coal Cliff after crossing the beach quite high and pressing on. WOW!
Here are 2 shots of my landing spot at Coal Cliff Colliery looking West and then North: