Dubai Day 1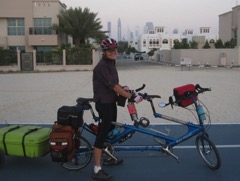 We rode from the airport to Millie's which was 50km
PHOTOS HERE

By the time we unpacked our bike and got it all assembled it took nearly 2 hours and we left the airport at about 5pm.
The traffic was heavy but well organized but we were riding on the shoulder of big expressways to start with and we missed a corner and headed the wrong direction. There was no turning back for a kilometre or two and then how to get to here we wanted to go? Finally we were off in the right direction and a bit more careful reading the signs. We were riding to Millie's place (my cousin's daughter's) and she had sent us an excellent map but it was still difficult and took longer than expected. We finally made it about 9pm.
It had been a BIG BIG day as we hadn't slept much on the plane and not at all the night before. We had a six hour time change making it a 30 hour day.