Wollemi Wilderness Expedition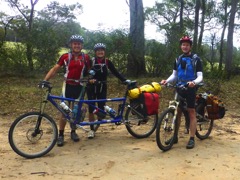 A three day "expedition" deep into the Wollemi Wilderness
HERE ARE MORE PHOTOS
Background:
We had wanted to do some multi-day expeditions on our tandem. Our idea was to ride into the bush on fire trails that were closed to vehicles and then maybe bush walk from the spot we reached.
We bought a trailer specifically for this sort of trip and looked at Wollemi National Park as a good spot. We spoke to Kevin to see if he had any maps or ideas and he was immediately keen to join us as he had wanted to do a trip along the "Army Road" into Gosper Mountain for about 10 years and had even done a day ride to see what the road was like.
We had wanted to make it 4 days but with Kevin joining us we decided on 3 to include a weekend.
After our bike broke at the Highland Fling we had to wait for a new chain stay to come from USA and this put our trip back a week. We therefore did not get a chance to try out our new trailer. It was Thursday I replaced the chain-stay and so it was Friday before I tested the trailer and it would not fit! I drove back down to Shellharbour to pick up our rack and panniers and cut back to our summer weight sleeping bags.
Saturday:
We drove to Kevin's early and left shortly about 7:30am. We took a longer route through Lithgow and North to Rylestone (we missed the direct route) and then East towards Dunns Swamp to our starting point near Red Hill property. It was about 11:30 by the time we were started: