Kangaroo Shoalhaven River paddle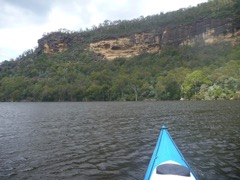 A great 2 nights camping & paddling on Yurrunga Dam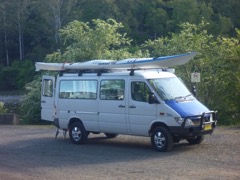 Sunday afternoon about 5pm we set off from Bendeela which is on the Kangaroo River just below Hampton Bridge and on the upper reaches of the lake formed by Tallowa Dam: Lake Yurrunga.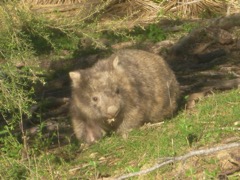 We paddled for about one and half hours and along the way saw a number of wombats grazing, nonchalantly unaware of us gawking at them.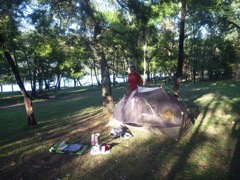 We camped at about 7pm at Kimberley Park around 10km from Bendeela, and a designated camping area with a pit toilet, a resident wombat and a beautiful outlook.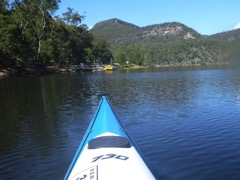 The next day (Monday) about 9:30 we reached Tallowa Dam a further 10km down the Kangaroo River. After a long rest break we headed up the Shoalhaven River.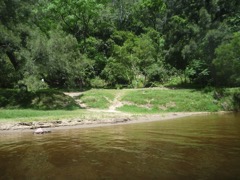 We passed a number of excellent camping spots and the scenery was spectacular.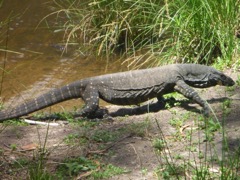 We stopped for lunch about 12 km up the Shoalhaven and had the company of a 1.5m goanna.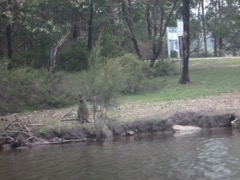 It might seem difficult to believe but on our return journey we paddled up Bundanoon Creek instead of the Kangaroo River and paddled an extra 6 or 7 km. This combined with a strong head wind made the decision to stay out an extra night pretty compelling. We were met at Acacia Flat by a wallaby (see photo)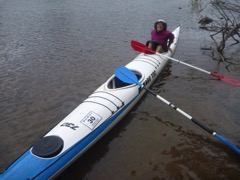 We were both pretty happy to get out of the boat as over 50km of paddling had made us tired but mostly our butts were sore.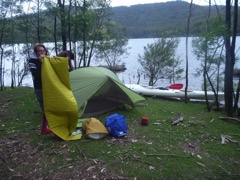 Another picture perfect campsite.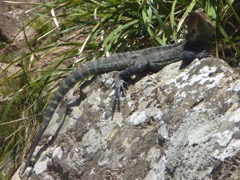 It took under 2 hours to complete the paddle the next morning. The most common wildlife was "water dragons" though there were plenty of birds of all different types. The sea kayak easily went about 6km per hour at a leisurely pace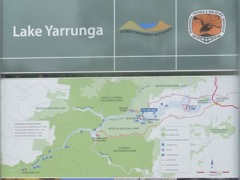 Click on the photo to see an expanded view of the trip. We did about 70km in total.