Melbourne Trip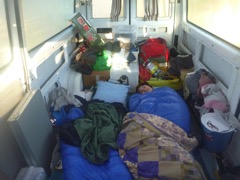 We took nearly a week to go to Melbourne & home
Our new van: now called "Ambie" although not fitted out at all, was still great for protecting us from the weather.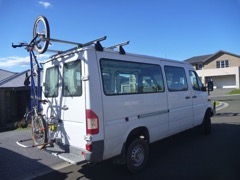 The new tandem rack on the back, although not finished worked exceptionally well.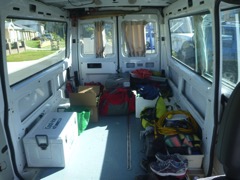 And as you can see, when we left there was plenty of space.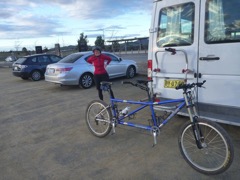 We headed directly to Canberra where we rode at Kowen Forest and then at Mt Stromolo before showering at the riding centre and off to Bob and Wendy's for Bob's 60th birthday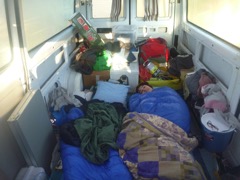 We had a comfortable nights sleep in the van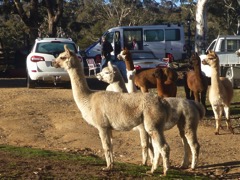 The Alpacas were around to see us in the morning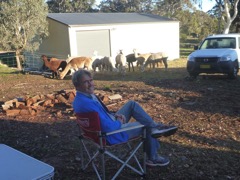 I tried out my new chair we bought at BCF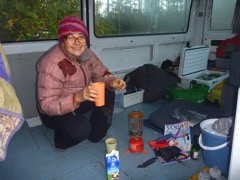 As you can see the conditions are rudimentary but we were very happy.
We headed down to Harros to pick up our new Kaestle Alpine Touring (AT) skis and get our new Black Diamond ski boots adjusted. We camped the night at Thredbo diggings.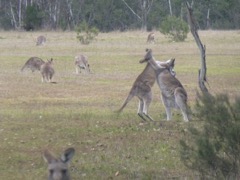 Monday it was over the Alpine way to Tom Groggin where the Kangaroos put on a show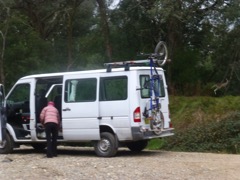 If you look carefully to the right of Ambie there is a Kangaroo jumping away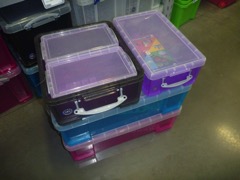 The weather was not good and we went for our first visit to Masters Hardware store and bought a few storage boxes we hope to use in the Ambie the van.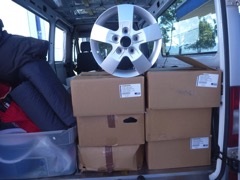 This was one of our main reasons for going to Melbourne. I picked up 6 16 inch rims to fit on Ambie from Eric, as well as getting some other bits and pieces including a air conditioning condenser.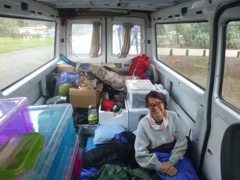 This is our last night at Bookham on the way home. It was a tight fit with storage boxes, new wheel rims, new skis and boots and other odds and sods we had picked up on our trip.