Navarino Island: Dientes Circuit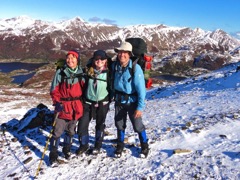 The Isla Navarino has the world's southernmost town: Puerto Williams, and is off the south of South America. We did a great 5 day hike around the Dientes Circuit (Dientes means teeth). It was snowy and cold but the scenery was excellent.

Here are the photos

Here is a map
And this is a more detailed description:

THE FLIGHT TO ISLA NAVARINO (9th April)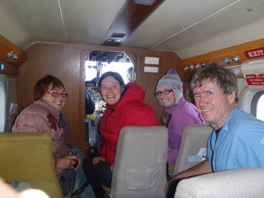 The price of a boat ride across the Beagle Strait from Ushuaia in Argentina to Isla Navarino was about US$120 so we decided to fly from Punta Arenas in Chile. The flight left at 10 am and was on a small 21 seater plane. The baggage allowance was 10 kg per person so we bought an extra seat between the 6 of us so we could get our camping gear across as well. The flight was spectacular with some cloud but with plenty of clear views over the many islands, fiords and snow covered peaks. We could even see South to what we imagined was Cape Horn about 60 km south.
The afternoon was spent buying some extra food, packing for our hike and looking around the town of Puerto Williams which has about 2500 people, half being from the Chilean navy.

DIENTES CIRCUIT DAY 1 (10th April)

From Hostal Pusaki in Puerto Williams to Laguna Salto. 12.5 km and a total of 1384m assent to camp at 480m asl. It took us 8 hours including rest breaks.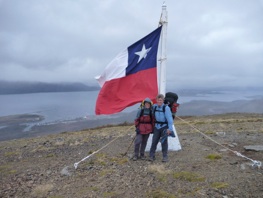 The weather started off fine and by the time we had made the steep ascent of Cerro (mount) Bandera it had started to snow. There were some difficult traverses and a very steep descent down to Laguna (lagoon) Salto. were we camped.


DIENTES CIRCUIT DAY 2 (11th April)

From Laguna Salto to Laguna Escondida 9 km and a total of 606m assent to camp at 538m asl. It took us 7 1/4 hours including rests.

The weather started snowing and remained pretty much the same most of the day. We had considerable difficulty finding the track and my GPS was essential to navigate back to the waypoints in the excellent 58 page guide we had printed from the Chilean government
website.
We crossed three passes, Paso Primera, Paso Australia and Paso de los Dientes to finally make camp while it was still snowing at Laguna Escondida about 6pm. Each night it was very difficult to find a campsite large enough for our 3 man tent in between rocks and tree roots.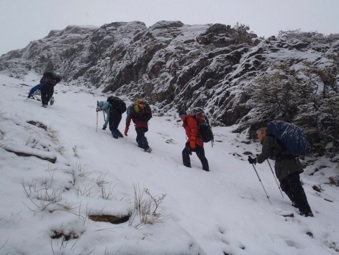 DIENTES CIRCUIT DAY 3 (12th April)

From Laguna Escondida to below the outlet to of Laguna Martillo. 9.6 km and a total assent of 717m to finish at 432m asl. It again took us 7 1/4 hours including rests.

Today to our surprise we awoke to clear skies and as we hiked over Paso Ventarron we had wonderful views to the South (towards Cape Horn). We could easily see the large Lago (lake) Windhond and then Bahia (bay) Windhond on the Southern shore of Isla Navarino. photos do not do this magnificent view justice and in my opinion it was the most spectacular vista of our whole South American trip. Ragged snow capped mountains, lenga forests in red orange and green autumn tones, numerous lagoons and hanging lakes and distant views of the coast fading into the sky.
We arrived at the recommended camp a bit before 5 and decided to walk on a bit to shorten the next day. We ended up doing an extra 2 km of relatively easy walking. The camp was anything but ideal and we ended up on the driest part of the peat bog we could find while the others had just enough space on a patch of gravel. It was cold but our spirits were warmed by a wood fire. The wood coming from trees destroyed by the"Canadian beaver".

DIENTES CIRCUIT DAY 4 (13th April)

From Laguna Martillo to Laguna las Guanacas. 5.9 km and a total assent of 935m to camp at 460m after about nearly 7 hours.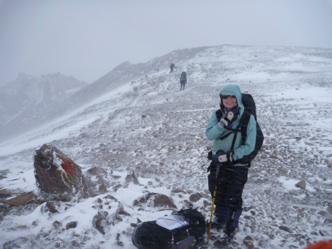 We had every type of weather today and crossed our highest pass, Paso Virginia, at 860m. The wind as we reached the top was very strong and the climb down the other side was so steep the shale slope slipped away under each step. The sun shone for a short while giving us a great view and a late lunch about 3:30pm. The wind and snow started again and as we crossed above Laguna los Guanacos and at one point blew Annette off her feet. Although it was a shorter day and we'd covered only a short distance we were all pleased to reach a camp, sheltered in the trees above Laguna las Guanacas.


DIENTES CIRCUIT DAY 5 (14th April)

from Laguna las Guanacas down to the coast and along the road back to Puerto Williams. 12.5 km and a total assent of only 300m taking just over 6 hours with lunch.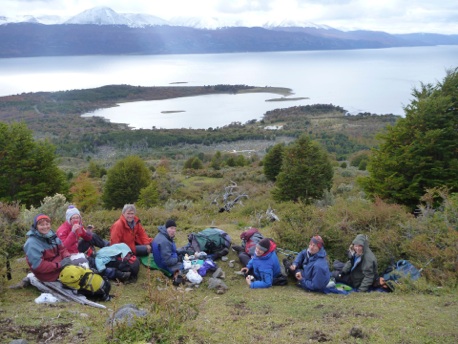 The weather was overcast but not snowing and everyone was relieved it was a relatively easy day. We stopped for lunch after finding the the last waypoint about 250 metres above the Beagle Channel. The view was great and despite some discomfort with the cold, particularly at night we had all really enjoyed an amazing trek. It was just 5pm when we reached Patty's Pusaki Hostal in town. Showers were much need and really appreciated and then we had a dinner feast at our hostel.

CROSSING THE BEAGLE CHANNEL TO USHUAIA (15th April)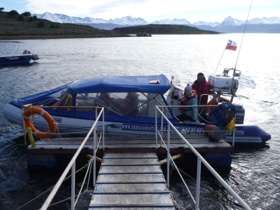 Our group split up as we started our journey home while Ian and Lexie flew back to Punta Arenas for another 10 days in Chile. We took the "zodiac" across the Beagle Channel. This involved going to the Police station to have our passport stamped for exit and then a 60 km mini-bus ride along the North coast to the Eastern end opposite Ushuaia to get in a fibreglass hulled inflatable sided speed boat the 15km across the strait. It could probably have seated 9 but with all our gear the 5 of us were a full load. At US$125 it was an expensive 20 minute boat ride. Sara and Catherine checked out all the hostels in town before they settled on "Antarctica". We visited the Museum the afternoon.

here is a link to the guide we used. it is a 58 page PDF essential if you were doing this hike but otherwise don't bother

Here is a link to the essential guide