Japan Ski Trip 5 Furano
Sunday as there had been no snow for quite a while we travelled the 60km North to Asahikawa to where the annual Snow Festival. It was slightly above zero (+2°C) so unfortunately the ice sculptures were melting slowly.
Here are a couple of the fabulous ice sculptures and then the scene at the snow sculpture park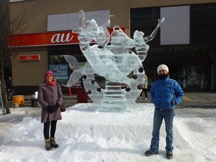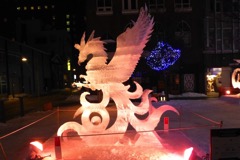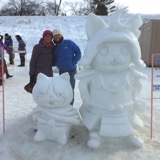 Andrew introduced Toby to Luge, I'm not sure who had the most fun: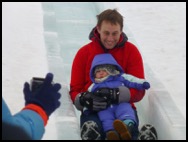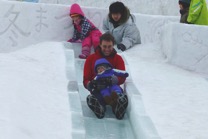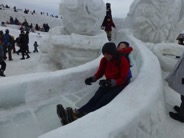 Toby continues to enjoy walking and in the photos above he was even wearing snow boots.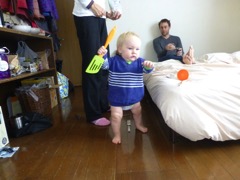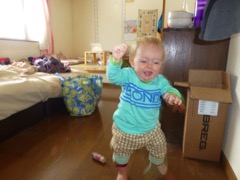 Monday and Tuesday there had been little fresh snow so we enjoyed some short days skiing and went to the cheese factory and shopping where we all had fun on a snow slide in the shopping centre.




Here
is a video of Toby walking and singing
Toby walking & singing from Gary Nelson on Vimeo.
On Friday 13th Andrew and I left at 6:30 and drove for about an hour into the Tokachi Mountains to the NE of Furano. We set off to hike from the Fukiage Onsen about 7:45. It was calm and there were great view back into the valley. We hiked for a bit over an hour up to the tree-line.
By the time we had taken our skins off the weather had changed abruptly and it was now foggy and snowing. The skiing was great and we did 3 runs down ( and therefore 3 hikes up) finishing right on noon. (click on the photos to expand them)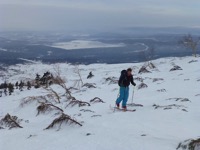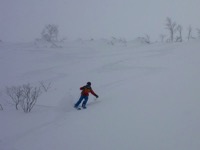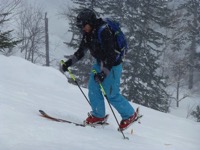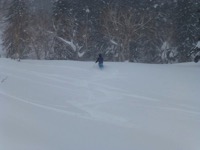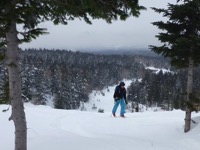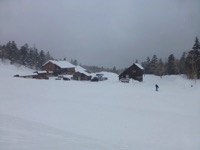 Saturday it had snowed a bit and we did some runs out from above the tram-way to skiers right off the top chair. With the extra snow we were able to drop into a SW face. Andrew and I did a few runs and on the first Andrew showed how valuable tracers are (tracers are ribbons attached to your skis so that if they come off you can find your buried ski). The second photo is my skis hanging over the edge of a few metre drop into a creek, just off the track out… a close call.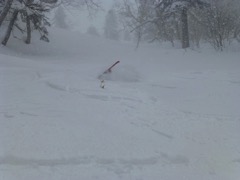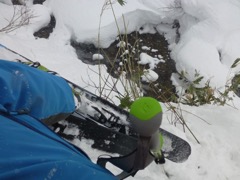 Kate then came out with me for a late afternoon run while Annette and Andrew cared for Toby.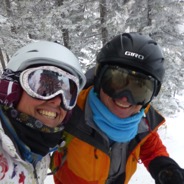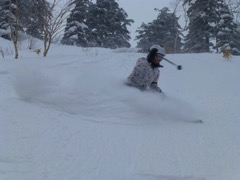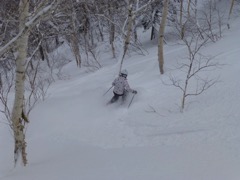 Sunday the lifts were more crowded and it was very windy and Andrew and I only got a couple of runs before they closed the cablecar
That night we went to a fun cultural evening: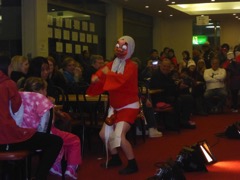 Monday the top lift was again closed so Andrew and I followed to guys we met into the trees and then spent an hour looking for Andrew's ski only to finally find it about 30 metres down the hill: The afternoon I skied with Kate and Annette, the photo shows our pension to Kate's left.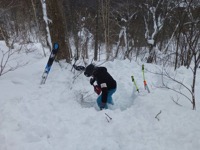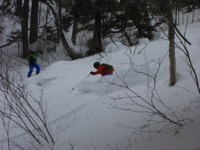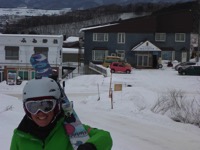 Tuesday we drove for about an hour South to Tomamu:
The pictures show the girls enjoying the fabulous groomed runs and you will note the 2 tall skyscrapers just to Annette's right.
The middle shot is Andrew and I hiking out when I wanted one too many turns in the side-country powder
And lastly we take Kate out to enjoy the fresh (though rather damp) side-country powder.