Morocco: Tafraoute back to coast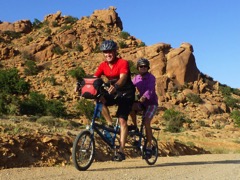 Tafraoute in the Anti Atlas was a great base
HERE ARE THE PHOTOS
The scenery and convenience of Tafraoute lured us to stay for 4 days.
Tuesday
we fiddled around and looked in town while our two broken spokes were fixed and finally went for a short ride (30km) to admire the granite rock scenery.
Wednesday
we woke to hear the great news that Emma is getting married! We did a loop out on the other side of town and again the scenery was great, this time mostly small villages set amogst the rocky mountains. It was amazing to see the terraces where some previous generation had spent enormous amounts of time to make a little level arable land. Those days are gone and there was little evidence of agriculture.

Thursday
was the big day as we went on an epic ride. The gears were playing up a little and I spent an hour trying to fix them. We ended up doing over 100km with over 1500m of climbing which is quite a bit. Also most of the climbing was on dirt. On the positive side the scenery in the gorges of Ait Mansour was "gorgeous". Rock formations that showed huge uplifts in the earth as layers of red rock were bent into ups and downs. All this and the palm filled oasis on the valley floor.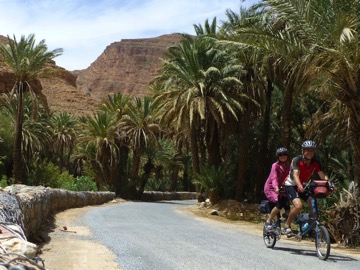 Friday
we faffed around with the thought of a 700m climb in the first 20 km towing a 30kg suitcase! (I searched the internet for details on our rear hub that was playing up) finally at 4pm we headed into town to try to arrange a lift. We approached the driver of the "grand taxi" at the taxi rank and he seemed to understand we wanted to go 20km to the top of the hill. How much? I asked. 1000 dirhams. I looked incredulous and repeated it back to him. I said we would ride as he was asking over $100. And so we set off but less than 5km from town our brake was playing up and so we returned and saw another "grand taxi" and so I asked again and this time the price was Dh200 (about $23) and so we loaded the bike on the roof racks and hoped into the old Peugeot. It too stumbled up the hill but only after we had paid the fare so the driver could put in some fuel. From the top which was 18km out of town it was only slightly more down than up and we rode for about 2 hours until just on dark we pulled off the road and pitched camp.

Saturday
there was still some more up and down for the first 20-30km. The back hub was squeaking a lot and the hub gears were playing up so we were unsure how far we would get.Finally it was mostly down and we started making good time so we decided to press on to Ait Melloul a total ride of 105km. We treated ourselves to a hotel which was clean and convenient (costing Dh150 (AU$17)).

Sunday
we headed down to the "juice bar cafe" for breakfast and with the hub gears playing up we were unsure what we would do, maybe a bus to Marrakesh. Being Sunday we were unsure if any bike shop would be open and even if it was could the hub gears be fixed. As it happened there was a bike shop just around the corner from the cafe and a young "mechanic" set to work pulling apart the hub. Two of the pawls were broken and the retaining spring was chewed up. I suggested we leave all the pawls out of this gear reducing the hub to 2 gears instead of 3. He would have nothing of it and pulled apart a few old rear clusters looking for replacement pawls. Next he dismantled a new Chinese cluster and amazingly the pawls were a close match. He wired these in place and everything looked good. I paid the Dh80 requested and gave a Dh20 tip. We decided to head off aiming for the other side of Agadir about 50km. The head wind was strong, maybe 60+km/hour and wiping up sand. Also it was not long before the gears started squeaking again. I spotted a bike shop on and went and asked if they could have a look. He was a 50year old experienced "mechanic" and he pulled the hub apart and I found two more bits of the retaining spring. Also the wire the earlier "mechanic" had used had broken. I again suggested leaving out all the pawls for this, the highest gear but he was determined and looked for a spring to retain the pawls. Finally he undid a motorbike carburettor and took our the spring and bent the spring steel into a retainer. When it was all finished we were cajoled into joining him and the other mechanic and sharing their large couscous and vegetables on makeshift seats in the workshop. I paid Dh200 and felt reasonably confident this was going to work. (
for more info, photos and probable cause
) We pressed on north into the northerly gale and in Agadir a mere 20km we decided to stop at the camping area. Although I was still considering a bus the Marrakesh Annette was keen to ride up the coast to Essaouira (pronounced essa-weera) 170km up the coast.
Monday
(day 14: 29th April2013) we got away about 9:30am and the wind was still strong and in our face. It was a slow, slow grind as we even had to pedal downhill into a 60km/hour head wind. We had hoped to get to a coastal "resort" what we thought was 83km north. long a desolate section of coast we stopped for lunch of rolls we had bought earlier. To our surprise there were women huddled in the dunes closer to the coast. At first we wondered what they could be doing so far from any towns but shortly a boy came up and offered us a mussels for sale. We bought about a bag of maybe 100 for Dh20 (AU$2.30). I have never eaten so many mussels at one sitting!! About 65km things were looking okay for making the distance and then the road started climbing. We climbed 350m away from the coast (> 12% gradient) and into the more hilly hinterland. The wind eased marginally but the hills took there place and finally after dark we arrived at a small coastal village of Port Imssouane at the bottom of a steep descent. Amazingly a restaurant was just closing and said we could have dinner. It was then we discovered daylight saving time had started on Sunday morning and it was 9pm. We ordered 2 chicken tagines and said we'd be back in an hour. The next amazing thing was we headed down a dark dirt lane and found what looked like a deserted camping area. A man was at a car and I asked: "We are looking for the camping area?" and he responded in English english that it is here. He apologised there was no light as the wind had taken out the power and gave us directions to the hot showers and where to camp and finally told us he owned the camping area. By the time we finished dinner it was after 11pm and the GPS registered over 11hours travelling time.
Tuesday
we were feeling stiff and a little tired and news that the wind was easing tomorrow quickly convinced us that a coastal sojourn for the day was a good plan