Northern Spain by car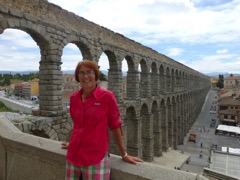 After paragliding we headed north
HERE ARE THE PHOTOS
Here is a Map of the main places we visited in Spain
like all photos you can click on this map to enlarge it.

We left Piedrahita on
Tuesday
(11th June) morning and decided our first stop should be Segovia, primarily to see the aqueduct which bisects the town but also to check out the castle or Alcázar which according to the Lonely Planet was the inspiration for the castle in Disney's Sleeping Beauty. Both were very impressive! We ate lunch admiring the town, Cathedral, Castle and city wall all from a nearby hillside. We then drove on north towards the Atlantic coast to be near the national park: Picos de Europa which sounded great. We camped near Panes.
Wednesday
was beautifully sunny and we first checked out the fantastic National Park Centre just down the road, then we
Here is the Map of the walk in Cares Gorge
(note extraneous points are due to tunnels)
Thursday
started out drizzling and soon turned to rain so we decided to check out one of the examples of early European neolithic art. This was in the form of the 'Museo de Altamira' near to Santillana del Mar. It was an incredible recreation of the cave and amazing paintings as the real cave was closed in 2002 due to damage from over-use. It was the first cave of prehistoric art to be found in Europe and between 1880 and 1900 it caused a lot of controversy and argument as to its age and authenticity. The art was painted between 13,000 and 18,000 years ago!
We then drove east towards the Pyrenees and camped at Lumbier.
Friday
we visited the nearby gorge before pressing on across
Andorra
. We had though we would find a quiet spot to camp but all too soon we were into Andorra and this is an unusual place, like a mountainous Nevada. Casinos and tax free shopping and every spare space used. We drove through the city and up towards the ski field and finally reached a clearing which was above 2000m and was part of the ski area. We pitched our tent on the bottom of a ski run. (Coll de la Borella)
Saturday
in summary: from
Andorra
, into France for a short time, and back into Spain and on to Barcelona.
We were woken by a car passing right past us before 6 am and when we
We were only in France for a few kilometres before returning to Spain and heading towards Barcelona. We chose the camping area right near the airport, about 12km south of Barcelona. A bonus was it was on the beach and we arrived in the early afternoon to spend a lazy time resting and having a swim in the Med.
Sunday
we rode into Barcelona and took a quick look around the city.
The ride in was on an expressway (no bikes) but fortunately in Spain no one seemed to care. It was just when the road became elevated near the
We left the beach and rode to La Sagrada Familia (The Church of the Holy Family) an icon of Barcelona. It has been under construction since 1882 and is not expected to be finished for another 30 to 50 years. It is the style that is most unusual being architect Gaudi's masterpiece of "modern" gothic. We did not go inside as it was both expensive (18 euro) and over an hour to queue in the hot sun. Nevertheless it was an impressive and unusual church.
Next we went to see more of Gaudi's work at the Park Guell where Gaudi had lived till his death in 1926 and where he had designed a number of "typical buildings" with few straight lines and unusual roof shapes inspired by nature. The view of the city from here was magnificent.
Back to the city and we luckily happened upon the church of Santa Maria del Mar, touted as the cities most beautiful church and certainly its plain lines and lack of excessive decoration made for a pleasing change. We finished our visit to Barcelona with the Museum of Pablo Picasso. We ended up riding over 60km for a full day of sight seeing.
Here is the map of our ride into and around Barcelona: