Burma 16, 17 Kalaw to Inle Lake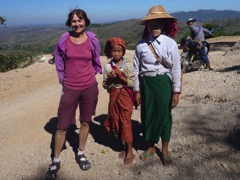 A guided trip on backroads between Kalaw & Inle Lake
HERE ARE THE PHOTOS
The planning:
We had read quite a bit about trekking from Kalaw to Inle Lake and hoped it might be possible to ride off the main road. The problem was finding the information or getting directions. After walking around town and asking at a couple of trekking guide shops I noticed a restaurant which also did guiding: UNCLE SAM's guiding service. We went there for dinner and I had the idea that maybe we could get a guide on a motor bike. Anyway the guiding guy: "Tun ti" was extremely helpful. He suggested 2 alternatives: A ride along the dirt road to Inn Dain and then ride or maybe boat up to Nyaung Shwe which could be done unguided in a day OR a two day option where we take a more circuitous route and stay in a village and have a guide on a motorbike. We took option 2. This they could organise with a guide who spoke a little english and could also cook and had a motorbike. This would cost 85,000 kyat (including the 15,000 kyat boat trip on the lake) just over $100.
The Trip
Next morning between 7:30 and 8:15 we wandered around the market which was on its one in 5 day roster at Kalaw. Then we met our guide nicknamed "Doon Ding" at 8:30. We headed out of Kalaw (about 8:45) via the railway station and passed numerous small villages (Ton La for example & Sin Le at about 18km). It was harvest time for the rice and the chillies and the fields were full of workers gathering in the crops. We had a flat tyre which took about 40 minutes to mend and we crossed a main rd about 23.6km for a luch stop at 24.7km about 12:30. The house was typical of the area, it was 2 storey the lower level used for storage and maybe the cattle if they had any. In this house the kitchen was a separate building. Both were made of woven bamboo and the floor of the upper level was also bamboo matting.
There was only one window and the roof of this house was of second hand corrigated iron. We left about 2pm about 30km we met and rode about a kilometre along a main bitumen road before turning off to the left. This was Nan Ti. The road after this was pretty bad and the going was fairly slow. About 3:30 at 37.4km we stopped for the night at a small village "Kon Lon".
Thursday morning I replaced the rear tube as the valve seemed to be leaking slowly. At 10 km we met a main road at Che Kang and turned right onto it. The road was now quite good with some parts just graded. At 19km we passed Te Ta and shortly after we dressed the last hill and we had a lovely long downhill to Inle. We passed a number of other groups of "trekkers" who were walking along the main road. Near Inn Dein we turned left and a few kilometres later we reached a small restaurant type arrangement where we paid our $5 per person "Inle fee