Off to India….Kashmir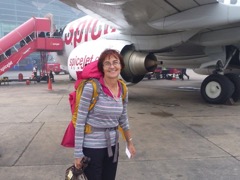 After over 27 hours travelling to Delhi and on to Kashmir
HERE ARE SOME PHOTOS
Our journey started badly at just after 1pm on 1st February when we ran out of petrol on the way to Wollongong to drop off the car. Annette's dad to the rescue and instead of taking the car to Shellharbour we left it at Joan and Peter and they gave us a lift to the airport.
Amazingly we had managed to get all our skis and ski gear into 42 kg of checked luggage which Singapore Airlines let into our 20 kg allowance. (The skis weighted 7.5 & 7.8 kg and my boots weight 4.5 kg so there was not much else.) My carry on weighed about 10kg.
We flew firstly to Singapore and then 2 hours later on to Delhi. We then had to catch a bus about 15 minutes to a different airport to get our Spice Jet flight via Jammu to Srinagar in Kashmir. We had booked our trip through an Australian company: Ski Himalaya and were met at the airport by their driver Mushtaq and after security checks we headed out of the very well barricaded and razor wired airport area.
We were booked into Hotel Broadway, an upmarket though slightly run down hotel about a kilometre from Dal Lake. We took an afternoon walk to the lake and along the shore until through the fog and haze we could see the snow capped mountains that make Kashmir Valley so famously picturesque.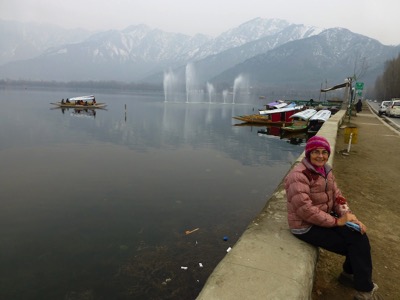 the misty mountains are reflected in Dal Lake.