Stanwell Tops paragliding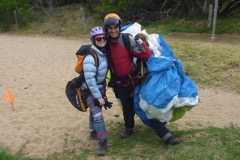 Andrew took Sara for a tandem and I had a flight
HERE ARE THE PHOTOS
the wind was very light and Andrew and I went down about 12 noon and I launched just after 12:30 pm.
It was extremely hard to stay up as the wind was so light and variable.
Andrew did a tandem with Sara which was just a few passes before the beach.
I followed down and landed just after 1pm.
See photos
for shots of their landing.
When we got back up the top it was Annette's turn for a tandem. Unfortunately the wind had dropped right off.
In almost nil wind, maybe nil Andrew attempted a forward launch but did not get off and they both went down through the lomandra and tripped and suffered some scrapes and bruises.