Southern Spain by car
02/06/13 19:29 Filed in:
Spain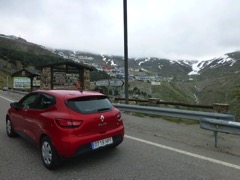 2000m in the Sierra Nevada … easy in a car!!!
SEE PHOTOS HERE

Tuesday
we continued our journey along the "Costa del Sol" past Malaga to Motril then turned north to check out the Sierra Nevada. The scenery was great and we enjoyed being able to relax and take it in. When we saw a turn to "Sierra Nevada" we thought we'd take advantage of the car and drove to the ski resort at a bit over 2000m ASL and as it was getting late we found a great spot to camp in the forest and bought a few supplies to make a rough dinner.
Wednesday
we decided to check out "La Alhambra" although we had read next to nothing about it before arriving. It proved to be so magnificent we spent the whole day and booked for the 10pm palace visit deciding to return to our "wild" camp" for a second night. Amazingly this is the only substantially intact medieval Muslim palace anywhere! The few photos only give a glimpse at the ornate, intricate design work and the truly gob-smacking extent of this detailed craftsmanship. Again let me say AMAZING!

Thursday
was pretty much taken up with driving to Seville. We took it easy and stopped under some olive groves for lunch and headed for the
camping area
about 15km south of Seville.
Friday
we caught the 132 bus into Seville to browse around this important historic centre.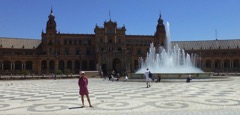 We wandered through the park where the bus stopped to find this huge semicircular palace like plaza which we found out was the centrepiece of the 1929 Spanish-American Exposition. Like Granada it was the Moorish (or Moroccan) influence that interested us most so we only took in the "The Giralda", the huge Gothic Cathedral which is symbolic of the city, from the outside. What makes it a little unusual is its incorporation of the 97m high tower of the mosque that previously was on the site. On top of the tower (minaret) is the bronze statue of "Giraldillo" (A lady representing Faith Victorious) which gives the Cathedral it's name. It was certainly an impressive Gothic Church with its huge ornate double buttressed walls. We did, however, pay to go into the "Real Alcazar", the royal palace and gardens built to including moorish, gothic and renaissance elements. It had some similarities to La Alhambra in Granada but on a smaller scale.
Saturday
we drove north towards Piedrahita (north west of Madrid where I will go paragliding for a week). We stopped to check out the remains of Italica, the site of a roman city about 8km north of Seville. We were going to try to camp in the wild when there wa a camping sign and we ended up at a very pleasant
campsite
just out of Plascena