MTB race: 3 ring Circus @ Wingello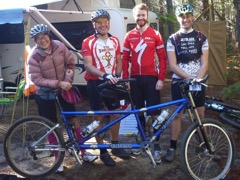 Now we have 4 of us racing at Wingello
This is the third year Annette and I have ridden in the 3 Ring Circus at Wingello Forest. The first year it was raining and it was just us. Last year Andrew joined us and it was really cold, and this year James came as well and the weather was clear.
There was more single track this year but there a lack of fitness on our part.
James showed us getting away early and we managed to get maybe a minutes lead on Andrew but then our chain came off and he went past. With the considerable single track they both consolidated their lead and the last 19km (The yellow loop) which was just fire road and the never-ending heart break hill finished us off. Although we did not get off our bike I was suffering from mild cramps from about 36km and found it a difficult last section.
We also fell a few times. The first, the front wheel slipped out on some loose dirt, the second was just after the creek on the new section of track and was a topple off as we hit a rock, and the third was on a new section linking the roads before Padre's section of single track where the rear wheel of our long bike hooked up on very narrow berm.
I landed pretty hard on my back on the second fall and bruised myself quite badly whole Annette managed to get off uninjured.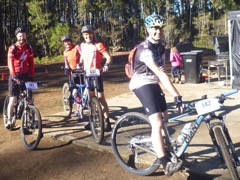 The first photo was outside Geoff and Gai Kemp's van where we left our bike from a warm-up ride on Friday evening. They were camped next to Jeff and Kim from Helensburgh who we met at Wingello a few weeks earlier.
Final results for us were:
| | | | | | | | | |
| --- | --- | --- | --- | --- | --- | --- | --- | --- |
| Position | Race No | | total time | Category | Catpos | gender | gender position | pace |
| | | | | | | | | |
| --- | --- | --- | --- | --- | --- | --- | --- | --- |
| 229 | 183 | | 03:22:41.6 | Veterans Male | 48 | Male | 203 | 14.4 km/h |
| | | | | | | | | |
| --- | --- | --- | --- | --- | --- | --- | --- | --- |
| 236 | 142 | | 03:24:37.4 | Veterans Male | 51 | Male | 210 | 14.3 km/h |
| | | | | | | | | |
| --- | --- | --- | --- | --- | --- | --- | --- | --- |
| 267 | 437 | | 03:34:16.1 | Tandem | 1 | Male | 235 | 13.6 km/h |