Wwoofing in Tassie
15/01/15 21:29 Filed in:
Family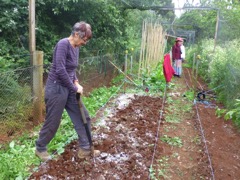 We met Sara in Tasmania where she was wwoofing.
Wwoofing is an acronym for "Willing Workers On Organic Farms". This was not just any farm but Sara had applied to spend time on Bill and Lisa Mollison's farm near Burnie in Tasmania. Bill Mollison was the founder of "Permaculture" and had written quite a few books on the subject. He had unfortunately had a heart attack and was no longer able to run the farm but his wife Lisa was continuing there biodiversity farm.
Sara spent a couple of months there before we arrived. Unfortunately she broke her scaphoid (wrist) in a car accident a few weeks before we arrived. Here she is with her wolfing companion Renata who was from Italy.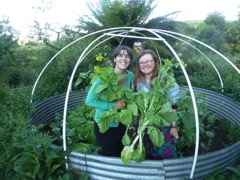 Most of the days were spent tending to the vegetable gardens and Annette joined the girls in that activity.
Potting, Weeding, Mulching, Digging, Planting etc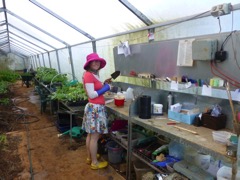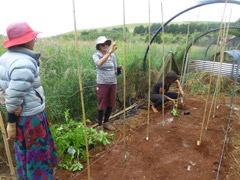 I involved myself in some small construction projects, building a ute tray, a bee-hive stand and a horse stand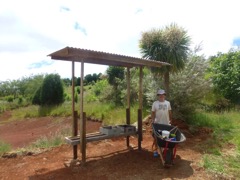 There was a communal kitchen were the meals were prepared and a few nights Bill and Andrea, a Brazilian girl employed to care for Bill, joined us. The picture below is of them all enjoying Karaoke with bottles as pretend microphones.