Lake MacQuarie: Swansie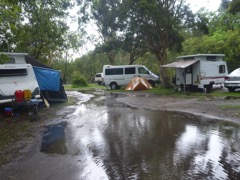 Went up to Lake Macquarie to camp with friends
Although the others were all there for the week we didn't get up until Wednesday 26th.
John had booked the Transgrid camp for us at Swansea and as well as John and Marilyn then Bob and Wendy and Ken and Diane were all there.
Thursday we relaxed around the camp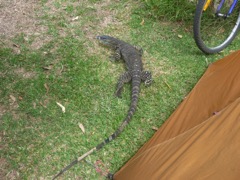 Here we were visited by a huge goanna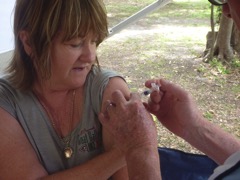 Marilyn had to get a flu shot to satisfy Ben and Cortney as she was visiting them and Audrey in the US. She picked up the vaccine and Bob gave her the injection as he had plenty of experience on Alpacas
Thursday night was a torrential downpour with about 250mm falling overnight. Because of the paragliding gear in the van we had pitched our old tent. Fortunantely it was on the high ground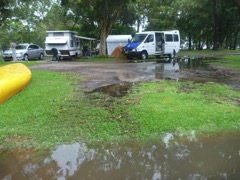 You can see the amount of water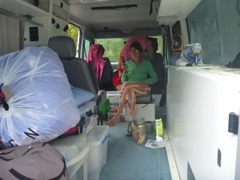 Our sprinter was a nice refuge for cooking in.