Shoalhaven Gorge Trip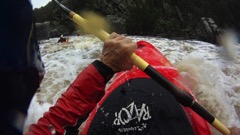 Shoalhaven River trip: Upper Gorge section...a BIG day out
Here
is the trip info & map
Here
are just the photos
Greg rang me on Saturday morning and asked if I was interested in doing the Upper Shoalhaven, the gorge section tomorrow. Of course I said YES although it was short notice I had always wanted to do the section below Oallens Ford to Sewells Point as I had done the section below Sewells in about 1971 and the section above always held some mystique. I was busy getting the bike Friday tandem sorted out as we were supposed to be leaving Sunday to start heading to Lithgow to start riding Monday....things were going to be hectic. I finished the bike adjustment and we headed out for a 30km shakedown ride and then quicklyy packd a few things as Greg planned to pick me up at 5:30pm Saturday afternoon. We met Kevin and Colin at Nerriga Pub about 8pm and drove out to Timberlight Holiday retreat/property and checked with the owner (Greg I think) before leaving Colin and Kevin's Car at the top of the terrible walk out. We then camped on the roadside on Oallens Road near the put in.
We arrived at the Ningee Nimble Creek bridge at 7:30am...it was cool and foggy, and we waited for Jiri who was driving down.... just before 8am he appeared and we headed off right on 8am.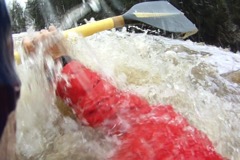 On the first rapid I broke my paddle and had to make do with half a blade for the rest of the trip.