Cycle Touring in Italy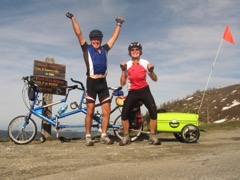 Beginning our first Overseas Cycle Touring Trip
We flew to Turin in Italy and cycled over the Maritime Alps to the Mediterranean Coast before cycling and travelling by train in various parts of Italy and then caught a ferry to Croatia to go sailing for a few weeks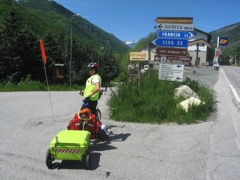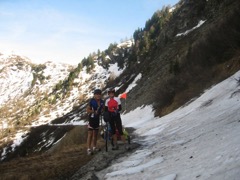 Starting up the pass over the Maritime Alps at Col d' Sempeyre and later pushing through the snow towards the top
on 9th May 2007

This is an UNEDITED email sent on 12th May written partly by Annette and finished by Gary.

WE ARE GOING FANTASTICALLY. HAVE HAD 4 FABULOUS DAYS. oUR RIDES SO FAR HAVE BEEN
VERY CHALLENGEING. The first day was a long butt wearing 127kms. It was mostly
flat but difficult to follow the instructions for the bike path. We finally
made it too somewhere that was secluded enough(on the main road) to put up our
tent and cook tea in the dark before collapseing into bed or mat.
The next day saw up slip up 1200m in 5 hours.ie.we went about 4kms per hour
plenty of stops. The ride was hard but the scenery so magnificent that all was
forgotten. We both felt we had never earned a view sooo much. The run down the
mountain was equally as steep and the the vista unbelievable. We both feel the
scenery is nothing short of magical.

Yesterday was a mostly downhill cruisey run into town about 70kms with plenty of
quaint little towns, water everywhere and magnificent scenes. We have spent 2
nights bush camping and really enjoyed last nights shower. Today we have once
again pedalled up river but are taking the chicken chute thru the mountain on
the train to France. For more views and a downhill run to the Rivereia.

Love and kisses to all We are well and safe now a few words from Dad.
Annete didnt mention the snow we had to push through at the top of the 2284m
high pass. Als o the Marmots we saw scampering around in the meadows. Finally
there was the little prang where a car hit our trailer on a blind corner on the
narrow pass. This delayed us a few hours and meant we camped where it
happened. All is now going though a little the worse for wear, especailly the
suitcase. I also wanted to mwntion what a gereat time we were having... better
go and catch the train to France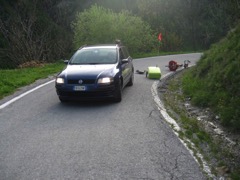 Above is a photo of our accident with the car that hit us.
The right photo is our camp on the side of the hill as our bike could not be ridden. After a lot of trouble we got it fixed the following day.


This is an UNEDITED email sent on 18th May written by Gary.


Hi Everyone,
Yes we are still alive and well and yet to tell another story.
We had our first day of rain on Tuesday. We packed up our tent in the rain and
put on our wet weather gear and set off in in the rain from the northern end of
Lake Como. The rain was no bother it was the fact that we got onto the super
strada (autobahn). we trult feared for our lives it was 2 lanes of traffic
hurtling along at at least 100km. To make matter worse it was tunnels, can you
imagine a tunnel 2300m long and us pedalling along. After that 30m of bridge
and then 2800m of tunnel, well we survived this for 10 kilometres and I was
crying, we finally clambered over a fence to safty and the quite cobblestone
track into town. Iam still having nightmares and thank god I have a guardian
angel looking after me.

Now once that was over we were able to enjoy the rain and then the fabulous
scenery. Snow capped peaks, beautiful gardens and villas, lush vegetation and
everywhere dramtic lake scenery.
We are riding long days about 100kms a day and yes our butts do feel sore but we
are loving it.
We have managed to cook our meal everynight in one little pot on our stove and
everynight Gary says that was delicious netty. Mmmm I am a good one pot cook.
Last night we spent the night at a campground in Switzerland very flash. Clean
toilets, long showers, hot water and we could wash our clothes.

Anyway time is runing out we love you all and miss you
Tomorrow we will head towards Venice by train
Love Annette and Gary


This is an UNEDITED email sent on 29th May written by Gary.
Hi All,
It is Tuesday morning here and we are in Dubrovnick. We picked up the boat last
Thursady and headed from Split down to Dubrovnik about 200kms to meet the
eggers and others for Saturday night. Pretty ordinary trip as no wind and had
to motor. We looked around Saturday night and Sunday. The old city is beautiful
one of the nicest in Europe not too big and plenty to see, with fortifications,
sea vistas and a busy harbour, along with war ravaged ruins and recent
renovations. Weather turned windy(yeh), rainy and cool on Sunday, so we started
sailing up the coast, was quite good unfortunately we got a small tear in our
sail and our radio does not work and to top that off Brett and Jannine bedroom
leaked. Luckily it was their choice of cabin but not helpful when all your
bedding is wet. So now we are back in port waiting waiting waiting. Gary and
Brett like that. The other boat has headed off further up the coast and we will
now be chasing them. The weather is suppose to improve in the next couple of
days.

But how was the rest of our bike trip. Short and Sweet it was Fantastic.
We loved riding around the Lakes district of northern Italy. Joan and Pete I
think it would make a great spot for 5 days exploring next year,plenty to see
and do and extremly picturesque, we would happily return to explore.

Once again Venice was good to us and we had an absolutely tremendous day.
After getting off the train at the Realto Bridge and moving directly to the
ferry terminal cos bikes are not allowed in Venice,we started our trip south
along the 3 Islands. However on the first long Island LIDO we met 2 guys taking
there double sea kayak out of the water. Can you believe they offered for us to
leave our bike in their front yard and take the sea kayak into Venice. This was
an offer for Gary too good to refuse. SOO we paddled the 5kms across the bay to
near ST Marks square and then in and around whereever we wanted. A free Condola
ride it was marvelous, Gary was in 7th heaven, we even tired up and went and
bought some food and drink,sat and ate it at the waters edge, the weather was
warm and sunny a really great day.

We travelled on down the coast to Ancona to meet Brett and Janinne and stopped
at 2 other interesting places. One was Ferrara which had a very large old city
wall that you could ride around about 10k. That was really neat and the castle
in the middle has a genuine moat that worked. We also spent the day in Ravenna
which is famous for its mozaics and they were in pritine condition for 500
years old.

We are glad to rest our weary butts on the boat and build up some strenghth for
the next leg of our ride. Gary has still not stopped eating 6 meals a day.
Hope this finds you all safe and well, and yes I do miss you all.
Love you lots
Annette and Gary