Sail on Sydney Harbour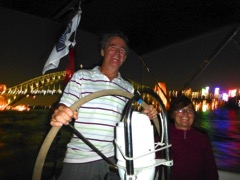 A great night with the Eggers on Sydney Harbour
John had brought their boat (Egglilante) down to the harbour for a Jeaneau regatta on the previous weekend. In the race on the Saturday, despite being the smallest boat they won with Dean, Anika and John's mat Kevin as crew.
Anyway they stayed at the CYC for the week and we met them on Tuesday night.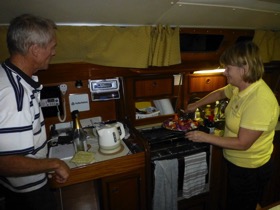 Marilyn made a delicious dinner in the spacious galley.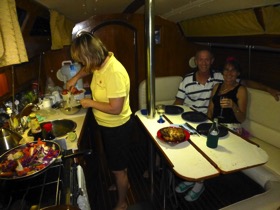 After dinner we decided to take the boat out on the harbour.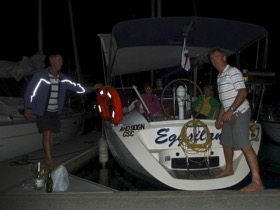 On the harbour the moon had come out (nearly full) and there was a light breeze of about 13 knots from the NE so we unfurled the foresail and sailed down to the Harbour Bridge and the lights of Luna Park. It was then possible to sail all the way back to Rushcutters Bay and John was good enough to let me take the wheel. All in all a very enjoyable night.