Completing Caspian & more friendly locals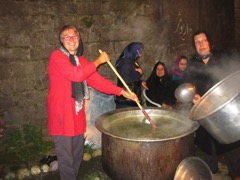 We met some wonderfully friendly locals
SEE PHOTOS HERE

An amazing three days travelling the last 150 km along the Caspian Coast of Iran to the border town of Astara. What unbelievable and generous friendship we were shown.

We were again slow to get started and finally left our hotel about 9:30 and rode around the town looking at the port and other sights before heading out of town.
Around midday a guy pulled along side us and told us something about someone meeting us just up the road. It all seemed a little strange but a few kilometres on a guy on an old pink girls bike met us and asked us to follow him. We later found out that a friend had seen us along the way and rung him to let him know some cycle tourists were coming his way. He was Farhoud Goudarzy an affable 45 year old cabinetmaker and he had done some amazing cycle trips himself including in 2004 with his then 15 year old daughter he had ridden to Marseilles, France, about 9,500 km in about 5 months.
After a huge lunch we were met by some friends who were English teachers and in 2 cars they took us the 80 odd kilometres through Fuman (where we stopped to try the local speciality cookies) and on to the tourist village of Masuleh. As it happened Farhoud's grandparents were from Masuleh and so we were introduced to some locals, sampled some local Halva and admired the quaint village where each successive level of houses uses the lower level's roofs as their front yard or tea room.
We rushed back to town to spend an hour or so chatting with and answering questions for a group of adult english language students before being ferried to one of the teacher's homes for dinner. That was interesting as it was the eve of an important religious holiday, the martyrdom one of Mohammed's daughter. There were dozens of women at the house cooking in a huge pot and as we understood it was customary to then share the food the next day. Annette was welcomed and helped with the stirring before eating with us as an "honorary male" I guess.
Later in the evening about 11pm we were just into bed when some friends arrived at Farhoud's home eager to meet some English speakers and we spent an couple of hours chatting with them about Australia and our impressions of Iran.
Amazingly we were on the road by about 7:30 despite having to wait to enjoy a generous breakfast. About 10am I received a phone call which seemed odd as few people had my Iranian number. "Hi Gary, I am Yaser and Hammid rang to say you were coming my way. We are waiting for you for lunch. Where are you now?" We worked out it was about 60 km and we estimated 4 hours to ride there so we hurried along to meet our next host. Hammid was one of the Iranian cycle tourists we had met 2 days earlier and he had let Yaser know we were coming.
Yaser met us just in the next town from his, Shirabad. He was a 27 year old English literature student who ran a small "English Institute" in the town to pay for he and his wife to live and for him to go to University. Saving a few hundred dollars in the year was about all that was possible so everything had to be done economically. His was a rich town due to extensive Kiwi-fruit plantations but there was certainly a big gulf between the haves and the have-nots. We had a wonderful time enjoying there hospitality and learning more about life in this very varied country.
Yaser booked a bus for us to travel up the pass from the coastal border town of Astara. Originally we had wanted to cross this border into Azerbaijan but the visa involved getting an invitation and as there is no Azerbaijan embassy in Australia it could have taken a day or two in Tehran so we opted for the less complicated option of entering Armenia where visas are available at the border. Our bus left at 4pm and so by the time we left Yaser's home it was a rushed trip the 27 km to the bus terminal to pack up our bike for the forth time and catch the very old bus the 300 plus km to Tabriz. The bus fare was 23,000 rial (about AU$ 3.00) each but as it wasn't a "Volvo" style coach the 3 bags were extra and to our shock more than for the two of us. We got it down to 30,000 rial so I guess about AU$8 for a 6 hour bus journey is okay.
The scenery up the pass from the coast was magnificent and then across a huge plateau until finally we pulled into Tabriz just after 10 pm.



Facts for the Friday 16th May Bandar Anzali to Rezvan Shar

distance: 36 km total in Iran: 994 km total for trip: 1353 km
departure: 9:42 arrival: 13:30 travel time: 3:48 time on the move: 2 hr 09 m
average speed: 17.1 kph


Facts for the Friday 17th May Rezvan Shar to Chubar

distance: 89 km total in Iran: 1083 km total for trip: 1442 km
departure: 7:42 arrival: 13:30 travel time: 5:48 time on the move: 4hr 10 m
average speed: 21.4 kph


Facts for the Friday 18th May Chubar to Astara

distance: 27 km total in Iran: 1110 km total for trip: 1469 km
departure: 12:45 arrival: 13:06 travel time: 1: 21 time on the move: 1hr 12 m
average speed: 24.8 kph maximum speed: 34.1kph