Granparents!!! baby Toby is born
22/02/14 23:00 Filed in:
Family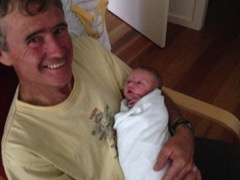 At 9pm 22nd February we became grandparents!
MORE DETAILS TO COME.

Toby was born at home at Kate and Andrew house in Helensburgh. He arrived on time as his due date was in fact 22nd Feb. At 8:57 his head arrived and by 8:59 the rest of his body and legs had arrived in the warm at comfortable birthing pool and Andrew who was also in the pool took him and we had a grandson!
The photo hearer is my first nurse of the baby on Sunday evening after Julie (his grandmother on Andrew's side) had been for a visit in the afternoon.