Srinagar and Dal Lake Paradise
04/03/13 22:41 Filed in:
India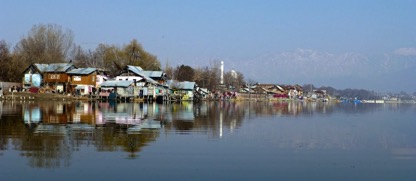 Magical, Spectacular ….
HERE ARE THE PHOTOS
I can see why Kashmir has been called "Paradise on Earth". What a beautiful place.

We drove most of the way around Dal Lake to the west side where we arrived at Butt's Claremont Houseboats. They are the only house boats in this part of the lake and unlike most they are moored parallel to the shore rather than squashed in "cheek to jowl". The boat was magnificent and we were waited on as if we were royalty by Nazam.
Next morning we took a boat ride in the local canoe called a Shikara. Ours was aptly named "Stranger in Paradise". Mr Lassa, our guide, was a wealth of knowledge and our 2 hour float out to Golden Island and back past the largest Mosque in Srinagar went all too quickly. See panorama above.
At about 11am Musaaf, our Ski Himalaya driver arrived a took us on a tour of a number of the Mughal Gardens and to a fabulous viewing point where we could see the whole of Dal Lake:

Unfortunately it was quite hazy so the photo above does not do it justice. We finished with a drive through the old city and then past the mosque.
We took a walk the next morning and everything was very quiet as another general strike had been called. Annette befriended a baker and we watch as he made the 5 rupee (10cent) breads and cooked them in a conically wood fired oven.
At the airport the security was a bit overboard. First we had to get all our luggage out of the car to be scanned plus a body pat down search at the entry to airport. Then when we entered the airport building. Then again once we'd checked in and we had to then we had to go and identify our checked in luggage. Finally as we were about to board the plane a 4th pat down body search. There was a 1000 rupee charge (about AU$18) each for our skis which we hadn't paid on the way from Delhi.