NZ week 4 Wanaka Paragliding & MTBing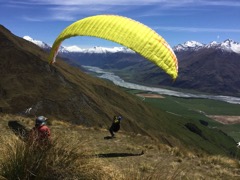 Another great week started with Paragliding and more MTBing.
Monday: Paragliding see more details
here
. and then in the afternoon up to Sticky Forest just behind Wanaka.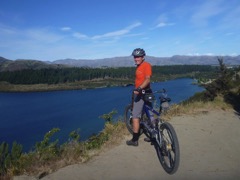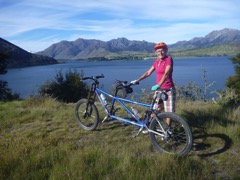 Tuesday: We rode up the track to Mt Aspiring to the Mt Aspiring Track about 9km and back. It was great scenery on a relatively easy walking track. It did however have quite a few fords and was pretty overcast… almost raining.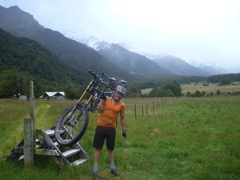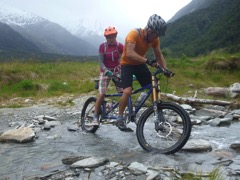 Wednesday we drove down to Queenstown and tried to put our bike on the Gondola but it wouldn't fit so we saved the $120 or $140 but had to walk up the service road. We had 2 great runs down, first on the easy track and then on the slightly harder Vertigo and Original tracks.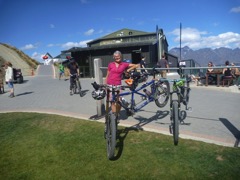 Thursday we woke to pouring rain and although we drove out to the "7 mile tracks" the rain was so heavy we decided to drive the hour or so to Wanaka to pick up the new riser stoker handlebars and mount the dropper posts.
Luckily we could go to Janey and Rob's house (Rose's parents, Rose being the tandem rider we had met in Christchurch). I used Rob's garage and some of his tools to work on the bike.
After so trouble moving Annette's seat post we finally got everything done and the weather had fined up so we had a short ride at Sticky Forest, behind Wanaka.
Friday we drove back to Queenstown and rode at the 7 Mile Tracks parking at Wilsons Bay. We drove up to Moke Lake and rode around the Lake before camping at the DOC camp there.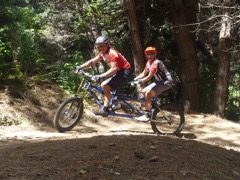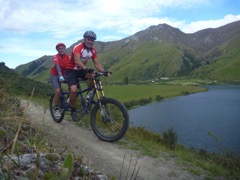 7 Mile Tracks above and Moke Lake to the right.
Saturday we rode from Moke Lake up the Moke Lake Circuit through Ben Lomond Station on a farm road which eventually turned to a rocky well worn track that involved a lot of pushing. at 10.5km we decided to turn back but hiked the next 1/2 km to get a view to what would have been our destination, Arthurs Point. The deeply worn track and large rocks made tandem riding difficult.
In the Afternoon we drove up to Coronet Peak and did 2 circuits of Rude Rock… A fantastic flowing single track from the ski resort down to the road. We rode up for the second go but I hitched up for the car after our second run. We then headed to Frankton to shop for supplies for our hike and drove to Glenorchy to camp the night.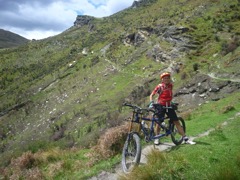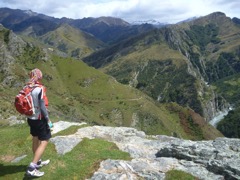 Where we turned back on Moke Lake Circuit and the spectacular view from the ridge we hiked to.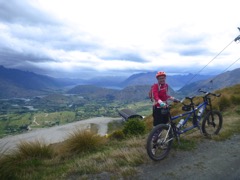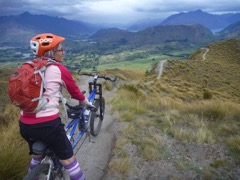 At Coronet Peak with Queenstown in the background. And the track on Rude Rock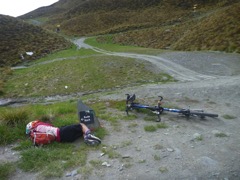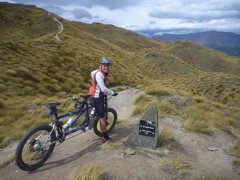 Annette record after the long slog back up the road to the start and a second run on Rude Rock.