Bright: Easter
Paragliding PHOTOS HERE
Mountain Biking PHOTOS HERE
PARAGLIDING LOG:
FRIDAY
,
SATURDAY, SUNDAY, MONDAY
We drove down to Bright in Northern Victoria on Thursday evening. ready for 4 days camping and enjoying some MTBing and Paragliding.
Friday
we headed up to the top of Mystic, the hill behind Bright and Andrew took Kate for a tandem flight.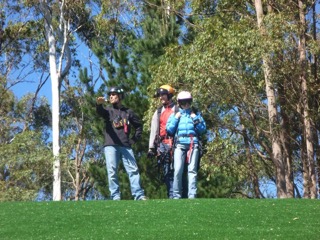 Andrew then took Julie for a tandem flight and Emma, James, Annette and I rode down from the top of Mystic on our bikes.
I had two further flights and Andrew took Emma for a tandem flight.
Saturday
we headed to Beechworth and had a great ride around the Beechworth MTB park and then headed into town where there was a fair on. Of course we stopped at the Beechworth Bakery and sat on the kerb outside and enjoyed our pies and "Bee Stings"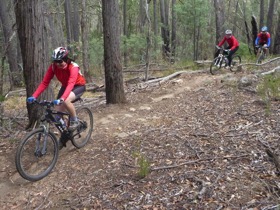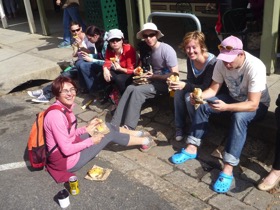 Andrew Larry and I headed back early and got in 2 short flights in the calm of the evening.
Sunday
Andrew, James, Annette and I rode up from the camp to the top of Mystic.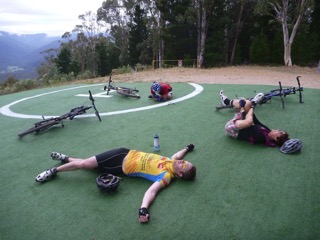 Here the others all stretch on launch.
It was 460m of climbing and we then rode down the "down-hill" track which was way too steep for us.
It was not perfect conditions for flying but I got 3 flights in including one of about an hour.
Monday
Kate did a second tandem flight in light conditions and Larry and I did a quick solo flightames for his in the light conditions early. By the time we got back to the top it had got quite windy with peak gusts of 15 knots. Andrew took James for his first tandem flight.
Again Larry and I took solo flights and although I was well above launch I headed to land with the thought of another fight. We decided to pack up and head to Beechworth for a quick ride at the great Mountain Bike track.