Burma 12 Bagan to Mt Popa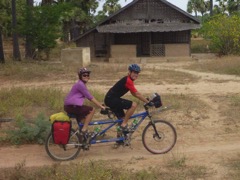 Our first real day cycle touring and 1/3 was off road!
HERE ARE THE PHOTOS
Bike repairs
The day commenced with another flat tyre to mend. Also changing the pads on the rear brakes had increased the travel of the brake lever so while the wheel was off I slipped in the backing plate off the old pad and this certainly helped. Annette went to pick up some fruit for our trip nd ended up in the local market. It ended up being 9am by the time re got away.
The dirt track
When we were in Yangon (Rangoon) Jeff our host had just returned from a trip to Bagan and his clients had done a 15km hike which he said could have been ridden. I had the track log from his trip downloaded to my GPS so it was going to reasonably easy to follow his route. It started 2.5km South from our hotel and as there was a small road leading South we decided to see if that met up with "Jeff's track" The small dirt road quickly turned into 2 car tracks but after about 3km we met up with the start of Jeff's hike. It followed a small road along a watercourse which had a number of irrigation dams along it. On either side were newt irrigated field growing various grains which were being harvested and threshed on site. There was lots of people in the fields and the farming seemed very labour intensive. Fields were being plowed by bullocks, hay was being loaded onto bullock drays and field were being harvested. The track would past a number of small hut villages with houses made of woven matting with thatched rooves. The track had many turns and intersections and we had to frequently refer to the GPS. It was all very interesting although the track was very sandy in places, especially in the villages were cattle, goats and carts made the road a deep dust bowl. At one point in the middle of a farming field there was a brick making area all done in the open air.
Brick making photos here
At about 15km the track improved and at about 18 km we hit a tar sealed road.
Road side mixed business
Along the road were a number of mixed businesses catering to travellers. We stopped at one to see what the circular contraption out the front was being used for. It was a peanut oil grinder. A bull was attached to a radial timber and was walked around and around grinding peanuts to make peanut oil. We were told it takes 20 minutes of grinding. They also were boiling down palm sugar and combining it with coconut to make sweets. The used woks to boil the sugar and there were a few girls there bagging up the sweets. At the back of the thatched shelter was a small fire and there they were distilling palm spirits. I had a taste and it was very tasty. They also had sesame seeds which were grown directly behind the shop. Finally there was what we were told was plum jam… We bought some although it was unlike jam we were accustomed to.
Mt Popa
There were a number of turns on the road were we relied on locals to direct us as there were no readable signs. At about 53km we spotted the Yangon Restaurant and we had been told our hotel was next door. The last few kilometres were quite steep and it had started to drizzle so we were glad to stop after over 6 hours. We went next door for lunch about 3:30 pm. After thet we went to our room and showered and as it was now raining we could see no point going up to see the view from Mt Popa so we relaxed in our hotel room.