Skiing in Niseko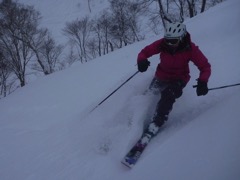 Powder skiing heaven, powder everyday!!!
HERE ARE MORE PHOTOS
It was an awesome week in Niseko. We stayed at "Ru Ru" aka "Niseko Pension" which worked out very well. We arrived Saturday and skied for about 5 hours until about 8pm. Sunday we did a long day skiing in to the night. Monday we accepted an invitation to go to Moiwa a nearby resort but the upper lifts were closed so we drove on to Rusitsu. This worked out really well as a lot of the lifts were closed at Niseko. We skied there with Mark and Rob and Dave (Demo) from Australia. Mark owned a lodge/house in Niseko (Hirafu) but was staying at our pension as his house was full. He had a mini-bus which he had hired for using for the 6 weeks he was in Japan.
On Tuesday we went skiing in Hirafu with Mark and he showed us some excellent tree runs between Hirafu and Hanazono. Our favourite was "Waterfall" which involved ducking under a rope but consequently it was untracked. In the afternoon we did a few more runs on waterfall which was great every time.
Wednesday, Thursday and Friday were pretty much a repeat of some fantastic powder runs.
Friday night Mark offered us a lift into the nearby town: Kutchan where we had dinner out... I had deer steak which was great.
Saturday Annette didn't ski as we were catching a bus at 12:10. I was pretty lucky as I timed it to get the single chair up just after 9am and they had just opened the gate to hike towards the summit. I hiked up to the summit and was one of the first to ski down so had an awesome run.