Japan Ski Trip 4 detour to Kiroro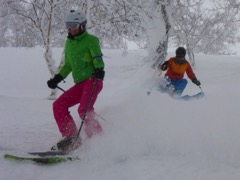 A change of plans and 2 nights in
Kiroro Ski Resort
Hotel
We had planned to ski and both
Kokusai
and
Kiroro
while based in Otaru but with the bad weather and car problems we had not been to Kiroro. Also the snow was so good at Kokusai we had to take Kate there for at least a day. Consequently we delayed our trip to Furano (which apparently had not had much new snow) and were able to book in at the Resort hotel at the Kiroro ski field.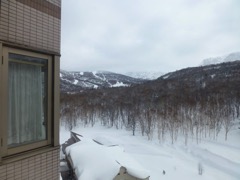 The view from our hotel window. The Piano Hotel about 400m from the main resort centre.
The snow was not quite as deep or fresh as we had at Kokusai but it was still a lot of fun in the "uncontrolled area" to skiers right of the Gondola. I was surprised by the bend in my left ski in the first shot.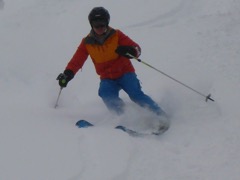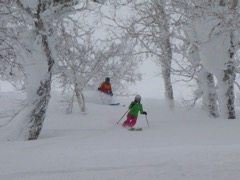 The hotel provided a free bus to go into Otaru where there was the annual light festival. We went in Friday evening.
It was along the canal and all the lights were provided by tea candles. They were set in snow models or floating in the canal.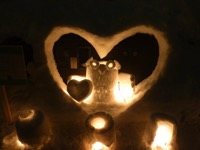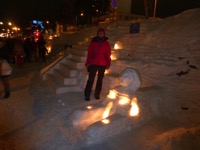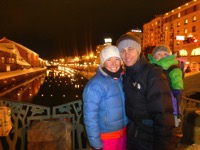 The Piano Hotel where we stayed was an impressive resort hotel with a number of restaurants, and excellent onsen a great buffet breakfast.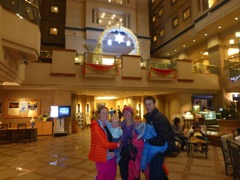 After 3 days of skiing we packed the car on Saturday afternoon and headed off to our next stop, a 3 hour drive to Furano.
Here is the loaded car as we arrived: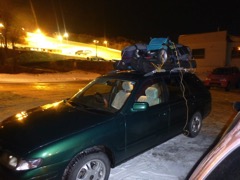 They had not had much snow and here we are in the icy car-park of our pension with the ski slope opposite, lit up for night skiing, just across the road.