First Tandem Highland Fling
We finished our first tandem Highland Fling
A Tandem 2006 Highland Fling


With much anticipation we lined up with hundreds of other solo mountain bikers ready to start the 2006 100+km Highland Fling. We hoped it would take us under 7 hours so we lined up with that group and immediately our chosen stead got plenty of attention. At 7:30am we were off and all was going well for the first 3 km then a large stick reared up and through the index chain. The chain was off and nothing seemed to go right. It is important on a tandem to have both cranks pretty much in synch and the long index chain connects the front and rear cranks. After what seemed like an age and hundreds of passing mountain bikes we were finally off again.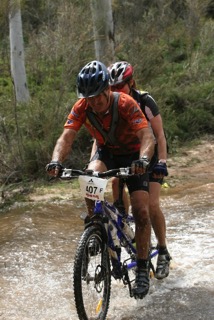 About 5km out we raced down what was known as the roller-coaster and with a sudden jolt Annette was doing bronco riding tricks hanging on the side of the bike. A metre later she was off and under the back wheel. A lot of very sympathetic riders stopped to offer assistance as Annette crawled off the track to inspect the bruises and missing skin. It was some consolation that a fellow rider offering us assistance had a dislocated shoulder after hitting the same stump. He had a long walk ahead of him plus a trip to hospital so we had nothing to complain about. Still it took quite a few minutes to coax Annette back into the saddle. A bent pedal shaft plus a bent crank made pedalling a bit odd from here on.
We pressed on towards the first check point and all our pre-race hydrating was catching up with us and we had to make an unscheduled wee stop. We didn't stop during the first transition and not long into stage two another wee stop and the other tandem rode past us. We played leap frog with them over the next 20 km and then came the tight single track. Although we found it a lot of fun we had numerous minor spills and then in the second section we had an over the handlebars, or as close to that as is possible on a tandem. As we gathered ourselves the other tandem zoomed past. Their custom built high clearance dual suspension bike made easy work of the single track, or was it Mark's greater experience and downhill racing background. Whatever it was it certainly made us feel inadequate. A few hills later we pulled away from them and at the 60 km drink station we caught Andrew (our son in law). This was great as we had no 8mm Allen key and Annette's pedal had come loose (which seemed very strange). We rode with Andrew for a few Ks before our chain came off for the umpteenth time and again jammed between the chain-stay and the chain-ring. As I yanked it free one side of a link came off. Andrew was ahead and rode off oblivious of our problem. I got out the multitool and started fiddling with the chain breaker. The broken link removed I rushed on to the second link but as I tightened, obviously slightly off line the hex key started to rotate. The chain breaker was stuck to the chain and I had no way of removing it. After some minutes contemplating our dilemma along came Anthony Jereley, a rider we'd never met before the race but someone we'd chatted with quite a few times earlier in the morning. He asked if he could help and he had a 4mm Allen key to save us. Some more minutes and we had the only spare part we carried installed, a trusty slip-link. Thank you Anthony!
We were off after another unplanned rest but within a few kilometres our brakes started to fade. Next minute we were careering down a long long hill with brakes to the handlebars and little or no slowing. A sweeping bend over a culvert and I was sizing up emergency exits but nothing looked good at the speed we were going. I was certain we weren't going to make the turn but as we drifted off the main track somehow we were still upright. I tried tightening the cables but it made no difference and as we neared the next transition on some fire roads we sailed right past a volunteer trying to tell us to go left. It was about 200 metres before we could stop and go back for the correct turn. I was sure we were going to have to retire and as we entered the slight hill into the transition. We went bush to stop ourselves and ran down the slight incline. At the transition I hadn't realized there was a bike repair service and appropriately named. Steve from Legends Bike shop at Moss Vale adjusted the callipers and lubed the chain and we were away within minutes to continue our marathon.
The final stage was pretty uneventful and with all our stops we were mostly riding alone. Either the shorter chain or the recent lube made gear changes smoother with no jumping off and the brakes were almost too good. At the bottom of the gauntlet (which we incidentally chose to walk) we met Andrew. He had bonked and was looking wrecked. He had been there a while trying to recover and said he would push on shortly. Incidentally the volunteer there told him only 14 riders attempted the gauntlet and most of them made it. I had another handful of jelly beans and we both seemed fine and really enjoyed the next few sections of interesting single track. We saw photographer Dave at the bike wash but he didn't get a photo as he said he couldn't work out why two guys were so close together. By this stage I was pretty sweaty and smelly and Annette certainly was wishing that at least her nose wasn't so close. From about 90km I had cramps coming and fortunately going. I had a sore back and bad pins and needles throbbing in my hands but there wasn't far to go.
Like everyone we were delighted to see the finish with a somewhat disappointing 8 hours after starting. When the 2 five minute transitions were deducted we had a 7 hours 51 minutes result. We will be better prepared next year, both bike and body and maybe 7 hours can be achieved.
Much to our surprise Andrew came in about half an hour later after making an amazing recovery. The other tandem crew were also behind us as Kylie told us she had not done enough training but they nevertheless loved it and would try to come again next year. Hopefully we can see a few more tandems as it is certainly a fun way to go.