Beachcombers Snow Week 2015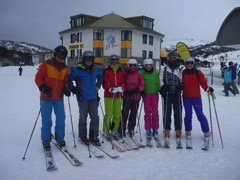 Family Week at the snow: Beachcombers, Perisher
Our annual family week at Perisher, staying at Beachcombers was again a big success. The snow was excellent with cold conditions from Sunday until Thursday keeping the snow in great condition.
On Wednesday we did a lesson called "Vertical Drop Session" and the title picture shows us lined up at the start. It was to progress from Sun Valley to Olympic and was great (except for Emma & Kate who were with a different instructor who was not so good). The rest of us had Ben who was very helpful and both Jannine and James did there first real runs down Olympic.
This year we had 12 plus Toby in our group: Kate & Andrew, Emma & James, Brett & Jannine, Tahli & Michael, Paul & Sheridan plus Annette and I. Also Julie & Larry's friends (and new club members Alex and Maz with their kids: Reo (2 1/2) & Lexi (4) plus Larry and for 2 nights Jen.
Other than the skiing, Toby was the main attraction and here are some shots of him.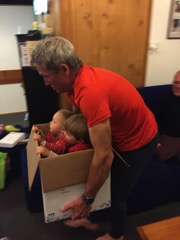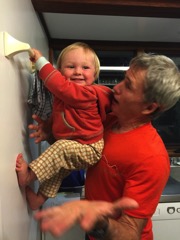 Box car rides, both pushing and carrying; and some rock climbing practice in the kitchen.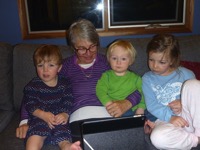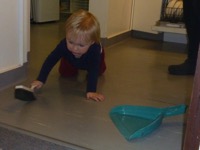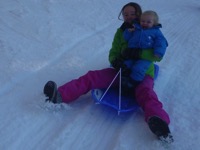 watching Pingu (the Penguin) with Reo and Lexi; helping with the sweeping; Toby first sled ride, Friday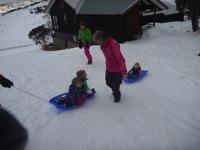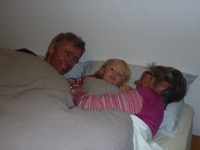 Having great fun sledding on Saturday and finally playing in bed with Grandma and Granddad.