Japan: 3 weeks in Hokkaido.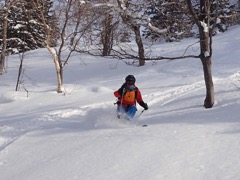 This photo is what we came for… unfortunately only a few days.
Our Hokkaido adventure started with our car which we had again arranged through Mark. It was at the airport but it was -10
°
C and windy. The car would not start, we suspect due to the electronic key being frozen. We trained into Chitose and walked the 800m to our hotel. Next day we managed to get the car started but our 2 hour journey to Niseko/Kutchan ended up taking 7 hours as the roads were blocked by too much snow.
This might sound fantastic but we were both too sick to go out and spent the next 3 days sleeping and resting in the backpackers in Kutchan. Thursday we did venture out to see Harro and took our skis but ended up going back to the backpackers.
Finally Friday we did go out for 4 hours. I found it very cold and tiring.
Saturday we drove up to Furnano where we were booked in to the same Pension we had stayed in the past 2 years: Young House.
There had not been much fresh snow and even if there had been I was too sick to go out. Annette ventured out a few days without me.
It wasn't till Friday (11th March) that I started feeling a bit better and probably not till the following Tuesday that I was back to 80-90%. About 17 or 18 days of being crook.
Sunday (13th) we headed out to Fukiage and finally got a day of backcountry. We took it pretty easy and hiked up for about 2 hours and then took a very enjoyable run down before an Onsen (spa).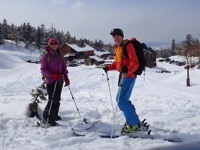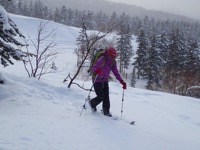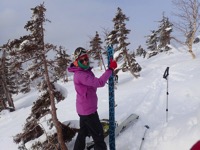 Tuesday we met Ben, a snowboarder we had met last year and he coaxed us to go off-piste to the skiers left at the top of the Kitanomine Gondola. We ventured there again on Wednesday for some fun short side country powder.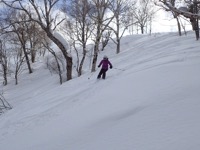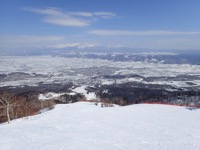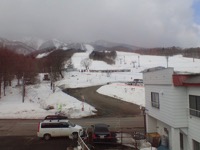 Annette to off piste to left of Gondola……A view of Fuano and Tokachi in the distance….The view from our Pension window.
The rest of the week we only skied for about 3 hours a day as it was all on piste, groomed run skiing.
Monday we said farewell to John Morrell and to Furano and drove to Chitose Airport, and would you believe when we arrived it started snowing.
Here is our skiing Record for Japan:
| | | | | | | |
| --- | --- | --- | --- | --- | --- | --- |
| day | date | place | Gary | Annette | comments | Gary SICK |
| Tue | 2 | left Sydney arrived Tokyo | | | | |
| Wed | 3 | Tokyo | | | | |
| Thu | 4 | Akakura: Myoko Kogen | ski | ski | | |
| Fri | 5 | Akakura: Myoko Kogen | ski | ski | | |
| Sat | 6 | Akakura: Myoko Kogen | ski | ski | | |
| Sun | 7 | Akakura: Myoko Kogen | ski | ski | | |
| Mon | 8 | Akakura: Myoko Kogen | ski | ski | | |
| Tue | 9 | Akakura: Myoko Kogen | ski | ski | | |
| Wed | 10 | Akakura: Myoko Kogen | ski | ski | | |
| Thu | 11 | Myoko Suginohara | ski | ski | | |
| Fri | 12 | Akakura: Myoko Kogen | ski | ski | | |
| Sat | 13 | car to snow Monkeys | | | | |
| Sun | 14 | | | | | |
| Mon | 15 | | | | | |
| Tue | 16 | Happo-One, Hakuba | ski | ski | | |
| Wed | 17 | Happo-One, Hakuba | ski | ski | | |
| Thu | 18 | Myoko Suginohara | ski | ski | | |
| Fri | 19 | Madarao | ski | ski | | |
| Sat | 20 | bus to Nozawa | | | | |
| Sun | 21 | Nozawa Onsen | ski | ski | | |
| Mon | 22 | Nozawa Onsen | ski | ski | | |
| Tue | 23 | Nozawa Onsen | ski | ski | | |
| Wed | 24 | Nozawa Onsen | ski | ski | | |
| Thu | 25 | Nozawa Onsen | ski | ski | | |
| Fri | 26 | Nozawa Onsen | ski | ski | | sick from noon |
| Sat | 27 | Nozawa Onsen | | ski | | v. sick |
| Sun | 28 | bus to Tokyo | | | | v. sick |
| Mon | 29 | drive to Kutchan | | | | sick |
| Tue | 1 | Kutchan/Niseko | | | | sick |
| Wed | 2 | Kutchan/Niseko | | | | sick |
| Thu | 3 | Kutchan/Niseko | | | | not as sick |
| Fri | 4 | Kutchan/Niseko | ski | ski | | a bit better |
| Sat | 5 | drive to Furano | | | | tired and lethargic |
| Sun | 6 | Furano | | ski | | tired and lethargic |
| Mon | 7 | Furano | | | | tired and lethargic |
| Tue | 8 | Furano | ski | ski | | tired and lethargic |
| Wed | 9 | Furano | ski | ski | | tired and lethargic |
| Thu | 10 | Furano | | ski | | tired and lethargic |
| Fri | 11 | Furano | ski | ski | | little energy |
| Sat | 12 | Furano | ski | ski | | feeling okay |
| Sun | 13 | Furano Fukiage Onsen | ski | ski | backcountry skin & ski | 80.00% |
| Mon | 14 | Furano | | | | 90.00% |
| Tue | 15 | Furano | ski | ski | | |
| Wed | 16 | Furano | ski | ski | | |
| Thu | 17 | Furano | ski | ski | | |
| Fri | 18 | Furano | ski | ski | | |
| Sat | 19 | Furano | ski | ski | | |
| Sun | 20 | Furano | ski | ski | | |
| Mon | 21 | drive Chitose Flight home | | | | |
| Tue | 22 | arrive Sydney | | | | |
| | | | 31 | 34 | | |