Bike Friday Get-together Barossa Valley

Bike Friday Meet: Barossa Valley
The 2016 Bike Friday gathering which was the 20th was held in Tanundra, South Australia. For us it was our 6th (Handorf, Cowra, Clare Valley, Mudge, Mansfield)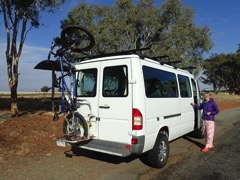 We drove over leaving Tuesday night and stopped at Bookham (3 hours) and then headed across the Hay Plains and 12 hours later on Wednesday night we arrived in Tanundra, in the Barossa Valley.
Thursday Morning (31st March) after Margaret Day (far right in picture) gave her traditional introduction we headed out for a very enjoyable ride along the Jack Bobridge Cycle Trail through Lyndoch and on to Williamstown. We rode a little over 60 km.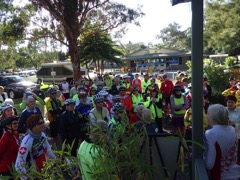 Photos on first day.
Friday we headed out to Kapunda past the miner's memorial (Kapunda was where the first viable Ore mine was established in Australia) and to a cafe for lunch. Unfortunately there was no gluten free options and we headed on the Maggie Beers Farm Shop and Cafe but the queues were long and we decided to ride on back to camp for a very late lunch (again a bit over 60km)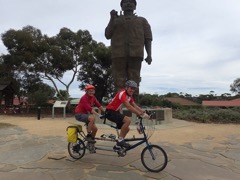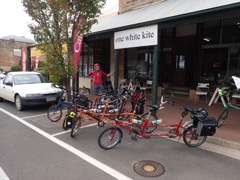 Miners Memorial and Tandems at Kapunda.
Saturday was dress up day and on the right you can see Bronwyn dressed as a witch, I am unsure how that fitted into the B or F but she was later awarded the prize for best costume. We had a particularly good ride as we first went to a farmers market were we spent up big on cheese and other organic produce (which Lindsay the knitter took back for us in her car). We rode on up for some great views from Menglers Hill and then to Anguston for lunch with Ian and Lexie and Frank (the rail trail guy from Melbourne).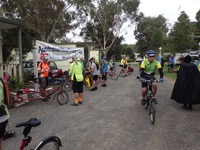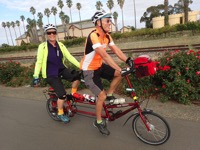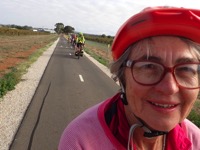 We took a short ride back from Anguston along the rail trail to Tanundra. Saturday night was the traditional dinner and Scott and Grahame Keast ran the Auction.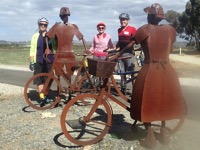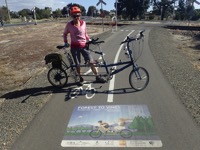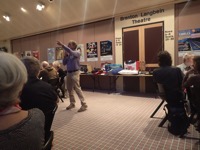 Sunday was a very short ride up for an early lunch and we chatted to Trev and Garcie among others making for a very social day.