NZ week 3 West Coast to Wanaka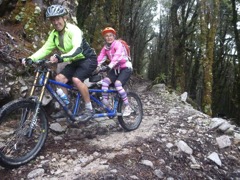 On part of The Old Ghost Road near Westport.
Monday we stayed around Nelson and rode at Silvan Forest near Richmond, maybe 10 km from Nelson. It was another purpose built MTB Park that was still under construction!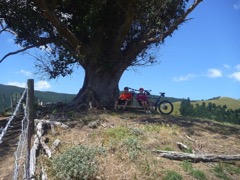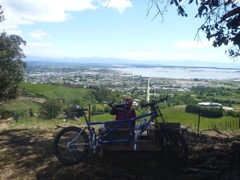 under the Jubilee Gum at the top of that trail, and the view looking the other way out to Richmond.
Tuesday we took a day off riding, we decided not to replace my cranks, We bought new tyres, organised a wheel alignment and drove towards the West Coast to Stop near the Buller River at the ens of the Old Ghost Road.
Wednesday we rode the 17km up to the hut and then pressed on a further 5km to get a great view. The "cover" photo for the week is just after we turned around and it started to rain. About 5km from the end we had a split in the side wall of the rear tyre so walked the last few kms.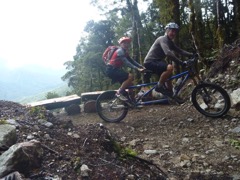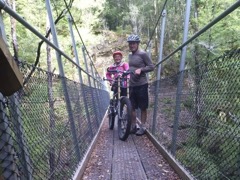 Thursday morning I bought a new tyre in Westport where we had stayed the night. I put that on with sealant and we drove up the Coast to Seddonville where the Old Ghost Road ends to ride up and back on the other end. The views were great but we tore a hole in the side wall of the new tyre at about 15.5km. We walked the last 1.5km to a hut were we had a very late lunch and tried to repair the tyre. I colluded re-bead the tyre to run tubeless and finally we put a tube in and rode the fun track back to the car where we slept the night.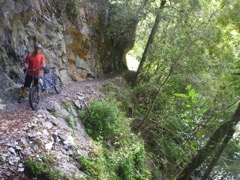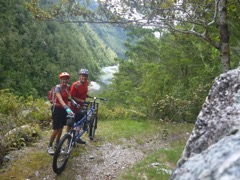 Friday we rode a few km from Seddonville and the Old Ghost Road on a really interesting track up an old rail trail to coal mines.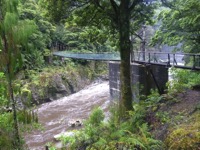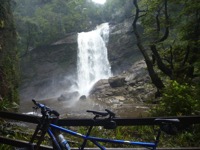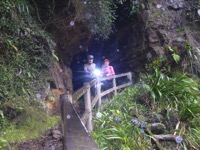 Saturday we drove across from the West Coast near Haast and took a late afternoon ride at Deans Bank on the side of the Clutha River as it flows out of Lake Wanaka.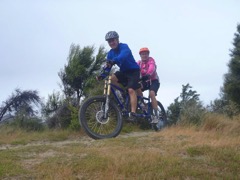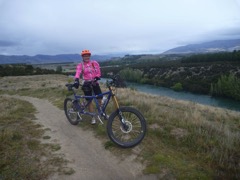 Sunday we drove out to see about Paragliding and I got an excellent flight. see details
here
.
In the afternoon we took a ride around Sticky Forest.