Highland Fling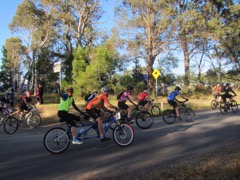 Again we completed the Highland Fling...
HERE ARE MORE PHOTOS

So what is the Highland Fling? It is a mountain bike marathon, in fact it is tagged as the "Australian Marathon Mountain Bike Championships" and draws about 2,000 competitors to the Southern Highlands town of Bundanoon to race in the adjoining forests over an approximate 110km course. There is also a Half Fling of 59 km and a 100 Mile Fling. Annette and I have raced tandem 5 previous times and have always taken a little over 7 hours. This year our aim was to go under 7 hours!
We did it in about 6 hours 35 minutes (the official times have now come out and we did 6 hours 33 min and 33 seconds). That put us first in tandem, in fact we are the only tandem.
If you are trying to go quickly it is a very gruelling event. This year was no different and by 70 kilometres I was suffering intermittent leg cramps. They were mild compared to previous years but signalled a need to be cautious about climbing to hard. We really didn't need a signal, every other part of our bodies was begging to stop it is just my legs were complaining the most. At about 80km we reached the second transition and Kate was waiting with fresh supplies.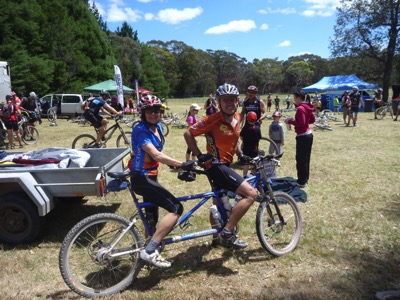 It is amazing how after just a few minutes off the bike and some stretching, we look quite keen in the photo Kate snapped. We headed out feeling rejuvenated though that feeling didn't last long. At about 95 km there was some tricky single track and some steep sandy pinches were we had to push our bike and Annette was feeling sick and my cramps were more intense. We struggled on counting down each of the last ten kilometres and when a sign said 500metres we tried to push but it was uphill and the body was not co-operating. Finally the finish banner and we were delighted to be finished and to have gone well under our 7 hour goal!
Andrew also raced and he did a personal best which was a little slower than he would have liked but he finished strongly in about 7 hours:
Here are some video links:
Flow Mountain Bike
Cyclenation