Oceania Slalom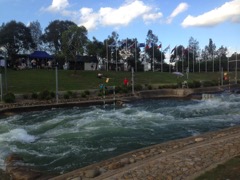 The qualifications were on Friday and the Finals on Sat & Sunday
I paddled in K1 and C2 and although our results were pretty poor we probably got what we deserved with the amount of practice we have been doing.
The course was particularly interesting and amazingly they were able to virtually flip it to be a mirror image from the qualifications to the finals. So gate 1 was up on the right for first runs and up left on the finals and the same happened for every gate down the course.
The Qualifications were held on Friday with Finals of C1 and Women on Saturday and the K1, C2 and Womens C1 on Sunday.
Here
are all the results and specifically here is our
C2 finals
results and a commentary on Sunday's event
here