Gulmarg week 4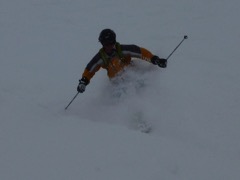 Week 4 started with more fantastic snow
HERE ARE THE PHOTOS
A COUPLE OF NEW
MOVIES
HERE
OVERALL IMPRESSION of GULMARG
This has been a wonderful month.
Firstly we were extremely satisfied with the company we came with i.e.
Ski Himalaya
. Of the organised tour operators, and there are quite a few, they seem to be the cheapest. We did not take there cheapest option and The
Heevan Retreat
which they recommended proved to be ideal for such a long stay. Other budget options would, from what we heard, been one or all of cold, cramped, further from the Gondola, without hot showers, internet or even electricity. Not to mention the excellent food we had.
The
Gulmarg Gondola
is in fact 2 Gondolas, the first running from about 2650m to 3050m and the second running to 3980m.
SUNDAY day 22: 24th February 2013 ( vertical descent 4600 m)

The Top Gondola opened for the first time since the storm over the previous few days which had brought 65cm of fresh snow. We didn't have a guide being a Sunday so we planned to just ski within the patrolled and avalanche controlled area. By the afternoon we were virtually the only ones who had not ventured further out but still the snow was relatively light and the were plenty of untracked patches to keep us happy. I ended up doing 5 runs while Annette's knees was giving her some trouble and she took one off to rest and take some herbal pain killers before our last two including a lovely run home where we didn't see another skier until just before our hotel. Another fantastic day!
MONDAY day 23: 25th February 2013 (2900 m)
This week after 3 weeks with Majeed we now have Shabir. Our plan was to go to Drung today while the snow was still good. We did a first run out to the North and the snow was not as dry as we'd expected. We then headed off to Drung. Annette was finding her knee was giving her some problems plus she was suffering a lack of confidence in her skiing ability. I think for both of us this was our least enjoyable day so far. There was only a small amount of good fresh snow and we were probably both a little tired.
TUESDAY day 24: 26th February 2013 (4900 m)
Annette took a rest day and I had hired skins and and trackers (gadgets that clip into your bindings to allow you to walk in your skis). It was foggy and overcast and not good weather for hiking or skinning so we did some runs close in. A couple to Trajan bowl and a couple in Apharwat North bowl before at about 1:00pm they told as the Gondola was going to close because of the poor weather. It was very fogged in by the time we started a 5th run directly back to the hotel. Annette had taken a walk to the Kyber for coffee and on into Gulmarg village. At about 6pm we went to the weekly avalanche awareness talk. We ate dinner with 4 other Australians (Anthony, Bob, Ross and Ian) and the kitchen staff had again made us a cake which was really nice.
WEDNESDAY day 25: 27th February 2013 (2100 m)
We started at the Gondola with 2 runs from first phase. It was pretty windy so they shut the Gondola so we headed to the Babareeshi trees where we had 2 great runs then I had a final run with Shabir just down to the Tangmarg Road.
THURSDAY day 26: 28th February 2013 (1960 m)
It was a mixed day weather wise. It started with signs of blue sky and by 9:30 when we met at the Gondola it was snowing. The snow got heavier and we had 4 great runs down from the first phase. We then went and did a run to Babareeshi. Annette hurt her knee and lost a little confidence so decided to call it quits while I did a second run with Shabir down the furthest north gully which was untracked and steep and deep. Great fun. On the drive back just after 4pm it had cleared to be blue sky and sun.
FRIDAY day 27: 1st March 2013 (4100 m)
I got up early and walked around the golf course to Gulmarg village to take some photos. It was a crisp clear morning and a considerably longer walk than I'd expected, nearly an hour and a half. Despite this we were at the Gondola before 9am and to take on the long queue again. We had 3 fantastic runs before a break for lunch then we traversed way North to Chooti Nali bowl (the 4th bowl over from the Gondola). The snow was amazing and we had some beautiful untracked slopes to finish an awesome day.