Tabriz and then on to Jolfa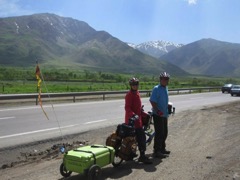 The most picturesque part of our Iranian trip
HERE ARE THE PHOTOS

Arrived late on bus and didn't get to our hotel till after 2:30am It was raining the next day and Annette was not feeling well so we stayed an extra night then headed North to Jofla on the Iranian border. It was the most picturesque part of our trip to date.

And here are some details:

We arrived in Tabriz on the bus about 10 pm and it took 2 hours to put the bike together (this being the 5th assembly of the trip). By the time we had photos taken with a few passers it was 12:30 am, we then set off in the direction I thought the city was. The signage was non existent and we rode about 8 km in the wrong direction before asking some people stopped at a roadside stall. No one spoke english so after some considerable discussion by about 15 men one insisted we should follow him. About a kilometre further up the highway to do a U turn and then back passed the stall where we could have walked our bike across and there was a sign to the "city center" but we were committed to following this guy and his 2 companions in a utility. Finally after about 8 km they stopped at a hotel and woke up the night attendant. They helped us in with our bike and suitcase up to the first floor and we said out goodbyes and thank yous to these very helpful locals. The attendant asked for our passport and we handed them over and asked the price of a room. It was 370,000 rials or about AU$40. We said thank you to the attendant and carried our bike and then bag downstairs and continued on. It was hard to find any landmarks that were on the lonely planet map and no one to ask. Finally at about 2:30 we found the cheap hotel we were looking for only to find it was crowded with people trying to check in and was full. Back down the road we found another small hotel that was open and checked in to a miniscule room (maybe 3.5 x 2.2 m ) with 2 beds and a desk. It was 120,000 rials (about AU$13.50). We were very tired and crashed.

Wednesday 19th the day:

We woke late to find it was pouring rain. After walking up through the bazaar we decided to stay for the day as the weather was terrible and Annette had a bad cough and was not well. We spent a few hours getting internet connection and then writing up our blog, doing some washing and reading up about Armenia.

Thursday 20th

We woke to a sunny day and left our hotel about 9am. We needed to change money and headed for the bank. We were changing US$50 and it took over half an hour at the bank by the time I filled in the triplicate carbon form then the teller filled in 2 further forms and photocopied my passport. He apologized about the "red tape" but finally we had plenty of cash for our last few days. We spent a further half hour trying to get an internet connection to send some emails we'd typed but this was unsuccessful so we headed out of town about 10:30.
The scenery was the most picturesque we had seen in Iran. There open plains and steep hills with coloured mineral hues. As we started climbing the snow capped peaks on either side added an alpine appearance and the countryside was unfenced and sparsely populated with very little of the litter that had marred much of the rest of the Iranian landscapes. We climbed from around 1400m to just over 1800m and just before the crest we were admiring a well tended garden when the owner invited us in for tea. We accepted and enjoyed tea and fruit in the beautiful garden before completing the last few kilometres of climbing to where a ski run was visible in the distance at Payan. Next we descended a steep hill losing all our days ascent in half an hour as we zoomed down into Marand reaching over 60 kph.
It was after 4pm and we were assisted to find a downstairs restaurant where the waiter/cook spoke no english so we pointed to the kebabs and were served a meal of vegetable soup with barley and then rice and kebabs and yoghurt. I was concerned when drinks were brought which we didn't want and had not ordered but when the whole bill for both of us came to 75,000 rials (about AU$8) my concerns were unfounded.
It was a further 60 odd kilometres of mostly downhill into Jolfa and along the way the we stopped to just admire the glorious scenery with snow on the mountains and in places wildflowers or shepherds with their flocks. We even stopped to watch locals collecting truffles in the fields. It was still light when we found a hotel in Jolfa about 8:30pm after a fantastic day of riding.

Facts for the 19th May Tabriz bus terminal to Pars Hotel in Tabriz

distance: 21 km total in Iran: 1131 km total for trip: 1490 km
departure: 00:28 arrival: 02:39 travel time: 2:11 time on the move: 1 h 10 m
average speed: 17.8 kph elevation start: 1470 m stop: 1438 m


Facts for the 20th May Tabriz to Jolfa

distance: 138 km total in Iran: 1269 km total for trip: 1628 km
departure: 09:10 arrival: 20:40 travel time: 11:30 time on the move: 7 h 04 m
average speed: 20.0 kph maximum speed: 61 kph
elevation start: 1438 m stop: 725 m ascent 777 m

Pasted Graphic