MTBing at Kowen Forest: Canberra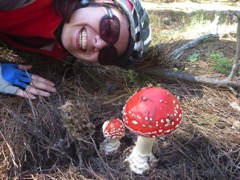 Emma joined us a Kowen Forest for some excellent MTBing
There were lots of these red mushrooms or toadstools in the forest. They are an import from the Northern Hemisphere and co-habitate within Pine forests, like at Kowen Forest.
They are called Fly Agaric as they were once used as a fly repellant when powdered and put in milk.
You can find more about these mushroom
Here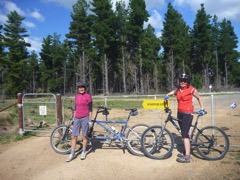 Kowen has improved quite a bit since we were last there.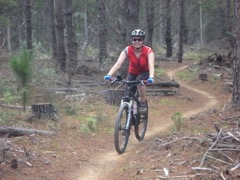 Emma joined us on Good Friday for a few hours riding before she headed home.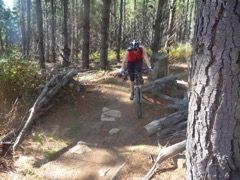 After Emma left we headed out to Cotter reserve on the other side of Canberra and met up with Dianne and Ken.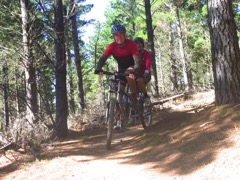 It was a late departure from Cotter and then we were a long time at Anaconda looking at stuff for our camper. We did however get a few hour of great riding in on Saturday.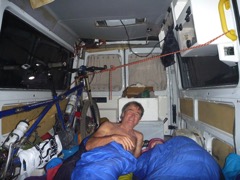 Saturday night we slept in the van in the middle of Queenbeyan.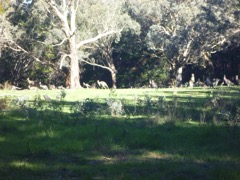 We did another 2 lots of about 2 hours each time riding around the Sparrow Hill section first and then the area where they hold the Mont.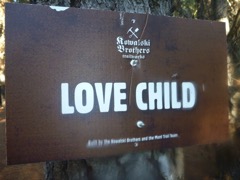 We met up with Paul Cole and his friend Mark who is one of the major track builders at Sparrow Hill and he told us about his philosophy of building flowing track that anybody can ride. He has certainly done a great job of that. We also saw Al, another of the keen track builders. We especially liked the run built by the Kowalski Brothers, not Love Child but the
Kowalski First Phase then into Kowalski Side Show, Corkscrew and on to Sweet Apples and to the Twisties to finish. Great Fun!