Japan Ski Trip 3 Otaru & Kokusai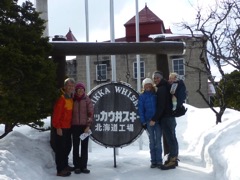 Off to Otaru for 5 nights… skiing and sightseeing
There seemed no point fighting the Saturday crowds at Niseko when most, if not all the upper lifts were closed due to high wind and there was no new snow. We headed to the coast and stopped in at the Nikka Whisky Factory in Yoichi. on the way to Otaru. Then it was on to the coast and to our hotel which was above a large shopping mall in the coastal city of Otaru.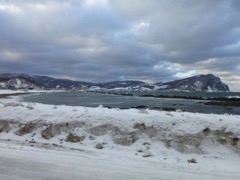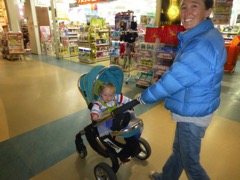 The coast was impressive and we even saw some surfers… And the stroller finally got some use.
Sunday there had been no new snow and there were gale force winds so we mostly stayed inside.

The big news was Toby took his first steps.

Not once but repeated many, many times during the day.
If you stood him up a short distance from something he could walk to he would happily step towards it.
On one occasion he took maybe 6 or 8 steps heading towards Kate.
He does not yet voluntarily set off by himself, but that problem is certainly going to be not far away.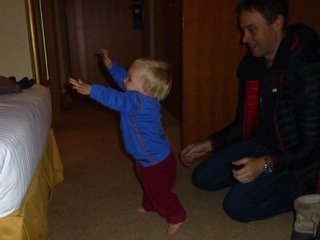 (click on a any photo to enlarge it)
Despite this we visited the Otaru Aquarium about 20 minutes drive away and watched the Penguins walking in the blizzard.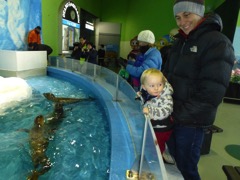 Monday the weather was still pretty miserable and Andrew and I headed up to
Sapporo Kokusai
about an hour of slow driving on snowy and icy roads. The skiing was excellent but unfortunately our van broke down (overheated due to leaking radiator) and although we made it back to Otaru it would no longer start without jumper leads… i.e. 2 separate problems.
Harbour view from our 14th floor window… The Van broken down; and finally me at Kokusai in the POW!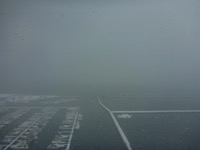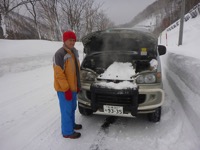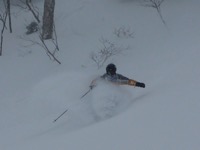 Tuesday was had its positives and negatives. The guy we got our car from was bringing us the Mazda station wagon we had initially but he was not coming until 11:30. Kate therefore volunteered to mis skiing so we could all get in some fun. The 3 of us got an epic afternoon at Kokusai.
Wednesday we made up the timber racks and loaded skis and Toby and all of us headed up to Kokusai. It has a really well appointed resort base with a kids room and 3 large restaurants and even a resting room if you wanted to lie down and recover. Most of the time I was on duty caring for Toby he was asleep in the cot provided in the kids room. The snow was again sensational and we had a great day.