Expressway Dubai towards Oman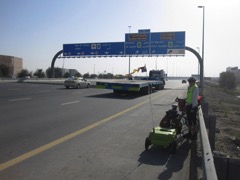 The only road towards Oman was this expressway!!
HERE ARE SOME PHOTOS

We knew it was going to be another big day as the distance to Khasab, our destination in Musandam, Oman, was 185 km from Dubai and we were at least 27 km on the other side of Dubai.
Millie and David were up at about 5am but we slept in until 6 and had breakfast with them and all left the house about 7am. For the first 3 hours we averaged 20 km and hour and a 10:45 stopped at a service station for a short rest and to get some water. We both lay down in the shade and next thing an hour had passed and then another. It was a lucky stop also as there was not another service station or anything on the expressway for another 56 km. It was HOT with next to no shade. By 5pm we had done 126 km and our first flat on the trip... a piece of wire from a steel belted radial tyre. We rode on for another 2 hour and stopped for dinner about 7:20 as it was now dark. The only word of English the guy seemed to know was chicken so we took that although I thought I could have eaten a horse, as it turned out the chicken was plenty.
A very scary, and strange thing happened after dinner. The road was divided with two lanes on either side and a wide shoulder and I wasn't paying much attention and the next thing a car is coming straight towards us on the shoulder going the wrong way about 60 km an hour. He saw us and fortunately there was not many cars at the time and he swerved to just miss us and disappear in the distance ... still racing along against the traffic on the shoulder. We stopped for a while to recover from what could have been an ugly end to our trip.
Finally just a few kilometres short of the Oman border we rode down to the beach and me a friendly Egyptian guy on a motorbike and he directed us to the best place to camp on the beach. We pulled in about 9pm after 167km. We had a swim and rinsed off with fresh water and were sound asleep by 10pm.