Our Irianian Friend: Farhood
21/10/13 23:17 Filed in:
Iran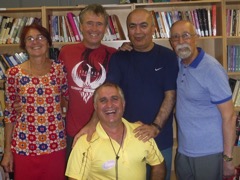 A day spent with Fahrood helping with visas
We met up with Fahrood on Thursday 17th October for lunch at Parramatta: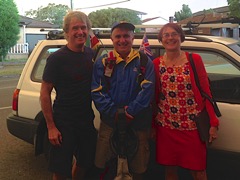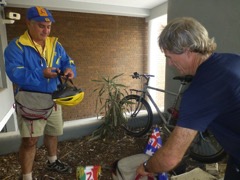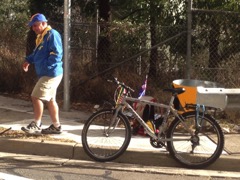 Fahrood was going well and had been in Australia for nearly 3 months. He was planning to go to New Zealand in a week as he thought he had a visa but when we looked at the visa it was only an application. We rang the embassy and found it was going to be a real problem as the visa normally took a few weeks to get and there was NO guarantee. Fahrood's Australian 3 month visa expired in a week. Unfortunately their was nothing we could do as we were not an authorised contact for his visa application.
He had travelled to Brisbane and back down the coast. He had then travelled down to our house in Australia to surprise us. Unfortunately we were in New Zealand but Jeff and Julie were home and entertained Fahrood and a friend who had travelled down with him.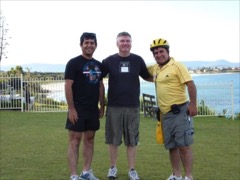 Here is a photo with Jeff at our house in Shellharbour
On the Friday we visited Jeff and he gave me a present Fahrood had left for us: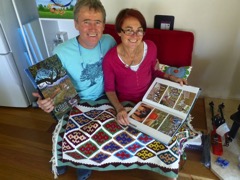 The present was a beautiful rug made in the Gilan region of Iran where Fahrood comes from and large coffee table picture book about Gilan. It weighed over 3.5kg and Fahrood had brought this all the way from Iran for us!
On Sunday evening Assad, the friend who was nominated as Fahroods contact for his New Zealand visa application rang to say he had received an email from the visa officer and Fahrood wanted to go to the New Zealand Embassy in Sydney. Could we go in with him on Monday morning. We were at Blaxland already on our way to Queensland so we changed our plans and met Fahrood in Parramatta. HE decided it would be best to try to extend his Austrlaian visa as well as continuing his New Zealand visa application. We spent most of the day at the Persian Library trying to sort out these 2 applications which both had their complications. We met some very friendly people especially Syrus a volunteer at the library.